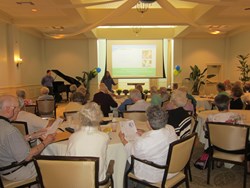 We are very happy to be partnering with ConnectedLiving. This complimentary service will offer our members and their families another pathway for communication and a way to keep in touch with each other.
Greenville, S.C. (PRWEB) October 24, 2013
ConnectedLiving®, the leader in bridging seniors and technology, is launching at Cascades Verdae retirement community this week.
Cascades Verdae's Members can now get online using a secure and easy-to-use web based social network, coupled with customized trainings and support. Members have their own personal home page and can select from a variety of activities including email, sharing and viewing photographs, vetted website search and shopping, recording stories, and much more.
Ultimately, Cascades Verdae's Members will gain new computer skills, improved communications with family and friends and enjoy the increased health benefits from socialization.
"Cascades Verdae firmly believes that at any point in one's life and regardless of their age or condition, their quality of life can improve," said Jason Johnson, Cascades Verdae's Executive Director. "More than any other factor, socialization with loved ones directly correlates to our Members' overall happiness and satisfaction with their life. Through our partnership with ConnectedLiving, we can provide our Members with a highly interactive platform which gives them an opportunity to communicate more often with those they hold dear."
ConnectedLiving will be offered throughout every neighborhood of Cascades Verdae, which offers the full continuum of care. In addition, family members can set up their own page to maintain contact with their loved ones no matter where they live.
"We are very happy to be partnering with ConnectedLiving. This complimentary service will offer our members and their families another pathway for communication and a way to keep in touch with each other. It will also provide educational opportunities for our members through various online courses and group training sessions offered by ConnectedLiving. This is going to be a great service for all who choose to use it," adds Johnson.
ConnectedLiving Ambassadors will visit and spend time at Cascades Verdae weekly to offer enrichment programming, computer learning, and one-on-one support for residents. Remote support for residents, family members and community staff will be available 7 days a week through the ConnectedLiving Center located in Quincy, MA.
"We had a vision five years ago – that if we could help seniors 'cross the digital divide'…that we would not only impact their quality of life, but also that of the entire family and extended community," said Sarah Hoit, CEO and Co-Founder of ConnectedLiving.
Cascades Verdae is excited to be the only community in Greenville County to launch this award-winning product.
About ConnectedLiving
Founded in 2007, ConnectedLiving® is helping senior citizens live richer, more connected lives by combining simplified technology with high-touch personal support. Through the award-winning ConnectedLiving Network, a cloud-based social platform designed specifically for the senior living industry, the company brings together seniors, their families, and community administrators in a secure, private online community. Coupled with the company's unique approach to training and support, ConnectedLiving integrates social networking, distance learning, community menus and calendars, and an extensive administrator dashboard to help get entire communities online and connected. ConnectedLiving has been adopted by the most recognized thought-leaders in both the private senior living industry and the public housing authorities across the country. http://www.connectedliving.com
About Cascades Verdae
Located on 40 wooded acres in Greenville, S.C., Cascades Verdae is South Carolina's largest CCRC. The community's care-free lifestyle helps members live longer, healthier and happier lives by offering an array of amenities including maintenance-free living, daily fine dining, weekly housekeeping, a nationally recognized wellness program and continuing-care health services. Members can choose from a variety of floor plans including single-family cottage homes and condominium-style villas. Assisted-living, Alzheimer's care and skilled-nursing rooms are also available for those who need to make a transition from independent living. More information about Cascades Verdae is located at http://www.thecascadesverdae.com.