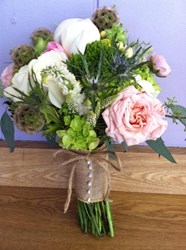 Thank you so much for the great job you did on my daughter's wedding flowers. Trying to help her and living out of state was a challenge. I always appreciated your patience, encouragement and creative opinion. It was a delight to work with you!
Salt Lake City, Utah (PRWEB) October 24, 2013
Today SaltLakeWeddingReviews.com named The Vintage Violet in Salt Lake City this year's number one florist in Utah. The Vintage Violet received this award for their impressive customer service and their breathtaking flowers. They have maintained a 5 star rating at Salt Lake Wedding Reviews since they opened two years ago.
Wedding florists continue play a prominent role in almost every wedding. Flowers have become the staple that will make any wedding come to life.
Brides are continually looking for an affordable florist that has experience and can make a wedding glisten. With hundreds of florists to choose from, it can be difficult for brides to know which floral expert is best for their wedding. With the help of brides and their loved ones, Salt Lake Wedding Reviews rates and reviews Utah wedding businesses so that each bride can find the best vendors for her wedding.
Ryan Swayt, co-owner of SaltLakeWeddingReviews.com explained why they deserved the award. He said, "We have seen The Vintage Violet impress each of their customers; brides always have good things to say. They can overcome difficult challenges including working with out of state brides over the phone. The 3 main qualities that need to be met for this award are first amazing flowers, second affordable prices and third great customer service. The Vintage Violet has far exceeded each of these qualities. They deserve this award and we recommend them to any bride."
Bonds Floral became The Vintage Violet in 2011. They have increased in wedding business by over 75% since their first year. They are known for their kind and patient staff. Brides have described them as creative, easy to work with and encouraging. They are willing to work with any budget, any bride and any wedding big or small.
Over 35 years of floral experience, has given The Vintage Violet the ability to handle difficult situations at any time. They offer all types of floral needs including brides and bridesmaid bouquets, boutonnieres and corsages, arrangements for the ceremony, centerpieces and floral arches. They can also work with your wedding cake specialist to deck your cake in flowers.
The Vintage Violet has 2 locations. One is located in Salt Lake City, Utah. The other is in West Jordan, Utah. Store hours are from Monday through Friday 9:00 am to 6:00 pm and Saturday from 10:00 am to 3:00 pm. Personal consultations are free and appointments are suggested. See our contact information to learn more about "The Vintage Violet".