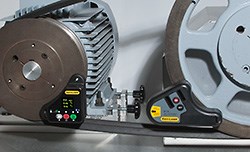 Easy-Laser was the first to market with the only Digital Belt tool, now we have found a way to make it EASIER!!!
Houston, TX (PRWEB) October 23, 2013
Belt alignment in the rotating machinery business has always been tricky due to the distances involved in the measurement process. Prior to laser belt alignment systems the process was done manually using convoluted brackets and measurement tool mounting systems. Once again, Easy-Laser has changed the way machinery is installed and maintained by incorporating Bluetooth technology and making an old time consuming process quick and easy.
The E180 Wireless Digital Belt Alignment system is a first. Easy-Laser was the first to market with the only Digital Belt Alignment tool, now we have found a way to make it EASIER!!! "By eliminating the cables our system is exponentially easier to use and quick to set up", states Troy Broussard, President of Cascade MVS. "We have also created a system that is compatible with existing products which allows our customers to take advantage of this new technology at a very economical price", explains Troy. The Digital Bluetooth sensors will work with the E-Series 540/710 platform or as a stand-alone with an on board display.
The new Bluetooth platform is just one of several new innovations Cascade MVS will be bringing to market in the coming months. "We are working on some very innovative products and services for the alignment market and our machinery health services vibration market as well", states Troy. Stay tuned for new product announcements form Cascade MVS.
"We could make it more expensive, but we couldn't make it easier!"
About Cascade MVS
Cascade MVS bridges the gap between manufacturers of machinery condition monitoring instrumentation and organizations leveraging the power of asset health management products. Our goal is to be a trusted partner for our customers in order to enhance the performance of their business and provide them with piece of mind knowing their machinery is running smooth. By providing innovative solutions along with industry leading customer service, our customers enjoy effective, affordable asset health management programs with the first class support they deserve. Our premier group of consultants will work to establish an asset health management system that fits your business and budget in order to maximize your return and keep your assets producing revenue.
Specialties: Laser Alignment, Shaft Alignment, Geometric Alignment, Problem solving utilizing vibration analysis, rotor dynamics, modal analysis, operational deflection shape (ODS), field balancing, bearing load calculations and modeling.
For more details, visit http://www.cascademvs.com or http://www.thetotalalignmentsolution.com.