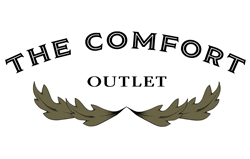 In order to help spread comfort throughout the world, The Comfort Outlet is happy to announce that they are offering free shipping on all of their Outlast mattress pads.
Lawrenceville, NJ (PRWEB) October 23, 2013
Comfort is important and it makes every part of a person's day better, but none of these parts is more important than sleep. Sleep affects every part of a person's life and steps should be taken to make sure that their sleep is as comfortable and productive as possible. This can be achieved in numerous ways, from comforters to pillows to the actual bed itself.
When weighing the options that can help improve the quality of sleep, it's important to consider the cost against the potential benefits. This is where the Outlast mattress pads reign supreme, bringing an incredible level of comfort for a relatively small amount of money. This cost is even less when taking into account the free shipping that is currently being offered by The Comfort Outlet.
Outlast provides an unmatched level of comfort in their "Not too Hot, Not too Cold" mattress pads at a price that is simply unheard of elsewhere. Outlast technology uses microencapsulated thermocules to absorb body heat and store it. That heat is then released when the person sleeping needs it most.
Outlast technology is NASA Certified and will help people find a level of comfort that was previously unavailable to them. The Comfort Outlet is now waiving all shipping fees on Outlast Mattress Pads in an effort to help make the world a more comfortable place. Anybody would be wise to take advantage of this offer and truly improve their lives with a good night's sleep every night.
About The Comfort Outlet:
Josh Chalofsky is the owner of The Comfort Outlet. The Comfort Outlet was founded and continues to function with the purpose of helping everybody to discover a level of comfort that simply hasn't been available before.
Contact:
Josh Chalofsky, Owner
The Comfort Outlet
609-301-0294
http://thecomfortoutlet.com/