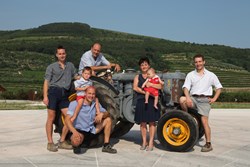 We are proud to join an iconic winemaking family like Michael Mondavi, which in the past few years has also developed Folio into a leading Italian wine importer.
(PRWEB) October 22, 2013
Napa, CA: Folio Fine Wine Partners is proud to announce that reputed Valpolicella producer, Dal Forno Romano, joins Folio Fine Wine Partners effective today.
Proprietor Romano Dal Forno was delighted to announce the partnership, stating: "We are proud to join an iconic winemaking family like Michael Mondavi, which in the past few years has also developed Folio into a leading Italian wine importer. The Dal Forno family and Michael Mondavi family share the same long-term vision and philosophies, common to quality-minded winemakers."
"Our objective is simple; to achieve the highest level of quality so that I can transfer to the final consumer not only the pleasure of drinking wine, but emotion. Folio understands this philosophy implicitly, and the leadership of the entire team gives me hope we will achieve great success together for years to come," Mr. Dal Forno said.
Folio co-founder Michael Mondavi was thrilled to make today's announcement, stating: "It is an honor and pleasure to have the responsibility of representing Romano Dal Forno and his family through their wines in the United States. I have admired the style and character of their wines for many years, and am thrilled that our team can represent these wonderful wines, and a family who complements the select leading families with which we partner."
Based in the town of Cellore d'Illasi, Verona, the Dal Forno winery was established by Romano Dal Forno in 1983 and is focused on the region's traditional appellations of Valpolicella, Amarone and Recioto. The family produces less than 60,000 bottles per year from owned vineyards, releasing wines under Valpolicella Superiore DOC, Amarone della Valpolicella DOC, and the highly sought after Vigne Seré Recioto.
Considered by Robert Parker Jr. as "unquestionably the leading Veneto producer of Valpolicella and Amarone," Dal Forno Romano joins revered Italian producers Arnaldo Caprai, Bruno Giacosa, COPPO, Donnafugata, Marchesi de Frescobaldi, Tenuta dell' Ornellaia and Villa Sandi; all of whom are committed to producing the finest wines representative of their provenance.
About Dal Forno Romano
Principally known for its famous Amarone della Valpolicella, the winery Romano Dal Forno produces three wines, all characteristic of the area in which the winery is situated, distinguishing itself in its constant and total quest for absolute quality. Born next to his family's vineyards, the founder grew up with a love for the countryside and an undying passion for his work, dedicating his life to continual improvement. For years, thanks to the commitment of the whole family, the company has reached unparalleled standards in their unflinching goal to give unique pleasure and emotion to all who drink a Dal Forno wine. For more information: http://eng.dalfornoromano.it/.
About Folio Fine Wine Partners – http://www.foliowine.com
Folio Fine Wine Partners was founded in 2004 by Michael Mondavi and his wife, Isabel, with their children, Dina and Rob Jr.. Folio is an importer, fine wine agency and producer of quality wines from the world's premiere and emerging wine regions, providing sales, marketing and public relations services to wine brands from California, Italy, Austria, Germany and Spain. Wines under the Michael Mondavi Family Estate include Emblem, Hangtime, Isabel Mondavi, M by Michael Mondavi, Oberon, and Spellbound. From Italy, are the wines of Arnaldo Caprai, Attems, Bruno Giacosa, Coppo, Dal Forno Romano, Danzante, Donnafugata, Marchesi de' Frescobaldi, Luce della Vite, Quorum, Tenuta dell' Ornellaia and Villa Sandi. The Spanish portfolio includes Artadi, Capafons-Ossó, Fillaboa, Leda, Nita, Palacios Remondo and Vall Llach, with Laurenz V (Austria), and Prinz von Hessen (Germany) completing the portfolio.