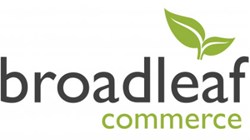 Broadleaf Commerce offers a comprehensive set of partner solutions to complement their enterprise-level eCommerce platform.
Edison, NJ (PRWEB) October 22, 2013
Dotcom Distribution, a premier provider of fulfillment and logistics solutions, today announces its partnership with Broadleaf Commerce, the open source software provider for building customized eCommerce solutions.
Broadleaf Commerce is fulfilling an emerging need in the eCommerce space. In addition to providing customized enterprise-level eCommerce platforms, Broadleaf is creating a network of partners for retailers whose needs extend beyond a platform solution. Retailers turn to Broadleaf Commerce for recommendations for much-needed services such as e-marketing agencies, call centers and fulfillment.
"Broadleaf Commerce offers a comprehensive set of partner solutions to complement their enterprise-level eCommerce platform," said Eric Burns, Vice President of Sales at Dotcom Distribution. "Dotcom is proud to offer its integrated fulfillment solution to Broadleaf Commerce clients. We currently share a relationship with a key luxury retail client, and look forward to a long relationship with Broadleaf Commerce."
Dotcom Distribution's experience with multichannel retailers provides the flexibility to allocate inventory to a wide range of clients. Dotcom is able to scale as brands expand across channels – key to a partnership that promotes multi-channel enablement. By fulfilling all orders from a single inventory location housed by Dotcom Distribution, which is connected to its back-end system, retailers no longer have to follow up with multiple vendors and coordinate delivery logistics themselves.
"Dotcom's location and same day receiving/shipping ability allows clients to average one- to three-day delivery times to more than 75 percent of the US population," said Brad Buhl, Director, Marketing and Channel Strategy at Broadleaf Commerce. "By partnering with Dotcom Distribution, we are able to provide our clients with an integrated, first class fulfillment solution."
About Dotcom Distribution
Dotcom Distribution is the premier provider of logistics and fulfillment services to growing retailers & manufacturers. Industry pioneers such as Fab, Birchbox, Bliss, Adore Me and INTERMIX trust in Dotcom's boutique feel, enterprise scale and management team to ensure their customers receive the highest quality packaging & delivery, while preserving the brand experience all the way through to the customer's front door. Dotcom's facility enables typical clients to achieve same-day order shipping and an average 1-3 day delivery times via standard ground service to 75% of the US population – all while delivering on custom packaging solutions which resell the brand experience at that critical final mile delivery.
For more information about Dotcom Distribution and its logistics and fulfillment services, visit http://dotcomdistribution.com.
About Broadleaf Commerce, LLC
Broadleaf Commerce, LLC is a privately held company committed to developing and supporting an open source alternative for enterprise eCommerce. It is the first company to develop an open source, enterprise-ready eCommerce solution using the widely adopted Spring Framework, which is the leading platform to build and run enterprise Java applications. Companies using Broadleaf Commerce are able to improve efficiency, capitalize on competitive advantages, and increase revenue. The open source business model yields a product that is superior to others for a fraction of the cost and is designed for customization. For more information about Broadleaf Commerce, visit http://www.broadleafcommerce.com.
Media Contacts
Tory Patrick
Walker Sands Communications
312.533.9823
tory.patrick(at)walkersands(dot)com
Maria Haggerty
Dotcom Distribution
732.287.5960
mariah(at)dotcomdistribution(dot)com