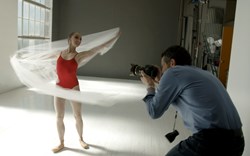 (PRWEB) October 22, 2013
Already being referred to as revolutionary by industry experts, the recently announced PENTAX K-3 is the most advanced interchangeable lens camera ever introduced by Denver-based Ricoh Imaging Americas Corporation (Ricoh Imaging). To showcase the extraordinary attributes of this new camera, Ricoh Imaging produced still images and video using the talents of respected fine art photographer, Allen Birnbach, and Colorado Ballet soloist, Dana Benton, to present the newly introduced PENTAX K-3.
Birnbach who shot Benton in a Denver studio said, "The ability to capture the exact second where movement and emotion intersect is vital in taking a beautiful image of a dancer. Working with a ballerina as talented as Dana and having products as flexible as the PENTAX K-3 support photographers in capturing the decisive shot that makes their vision a reality."
Since its introduction, Birnbach's positive sentiment has been echoed throughout the photo-imaging industry. In a hands-on review of the PENTAX K-3, posted by the photo-imaging experts at The Imaging Resource, the K-3 was considered to be a device containing revolutionary technology. "It's not often that we label an imaging technology "revolutionary", but if ever one deserved to be called such, this is it."
As the Colorado Ballet prepares to move in to their new building, the 53-year-old organization continues to enthrall Denver audiences. The Colorado Ballet's recent performance of Giselle received a five-star review from Denver Performing Arts Examiner, Claudia Carbone. In her review, Carbone stated that the company's performance of Giselle was "hauntingly beautiful."
"The Colorado Ballet is one of Denver's finest assets," said Brian McIntosh, Director of Marketing, Ricoh Imaging. "Is it any wonder that we would elect to align with an organization this extraordinary? Their commitment to excellence mirrors our own and it has been an honor to work with them."
As part of Ricoh Imaging's partnership with Colorado Ballet, material from the showcase shoot will be used in a national multi-media campaign to promote the PENTAX K-3. Images and video from the shoot will appear in print and online ads, point-of-purchase displays, marketing materials and email, as well as in social media and public relations initiatives.
To see the PENTAX K-3 video featuring Allen Birnbach and Dana Benton please visit: http://youtu.be/oUXBLTWdKjs.
To learn more about the new PENTAX K-3 and Ricoh Imaging's full lineup of DSLRs and lenses, please visit: http://www.us.ricoh-imaging.com.
To learn more about Dana Benton and her 13 year tenure with the Colorado Ballet, please visit: http://www.coloradoballet.org.
To learn more about Allen Birnbach and see more of his impressive collection of work, please visit: http://www.allenbirnbach.com.
About Ricoh Imaging Americas Corporation
Ricoh Imaging Americas Corporation is a subsidiary of Ricoh Company Ltd., a global technology company specializing in office imaging equipment, production print solutions, document management systems and IT services. Headquartered in Tokyo, Ricoh Group operates in about 200 countries and regions.
The company now known as Ricoh Imaging Americas Corporation was originally founded in 1919, under the name Asahi Optical Joint Stock Co., and launched its first SLR camera in the 1950s under the PENTAX name. Today, Ricoh Imaging Americas Corporation continues to produce the heritage-rich, award-winning line of PENTAX DSLR cameras, lenses and sport optics equipment as well as Ricoh's offering of stylish and compact digital cameras, known for their wide-ranging, rich set of features.
© 2013 Ricoh Imaging Americas Corporation. All rights reserved. All referenced product names are the trademarks of their respective companies.
Contact:
Amber Renard
Ricoh Imaging Americas Corporation
(303) 728-0255
amber(dot)renard(at)us(dot)ricoh-imaging(dot)com