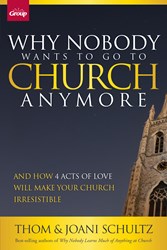 When we take a hard look in the mirror, we must confess: Our churches 'talk' love, but we don't really 'do' love. What we 'do' is more important that what we 'say.'
Loveland, Colorado (PRWEB) October 23, 2013
Current trends indicate that the majority of churches in America are stuck or in decline. A new book provides a unique view of what's causing the church to die, and provides solutions for reversing the trend.
Thom and Joani Schultz cite in their book, Why Nobody Wants to Go to Church Anymore (Group Publishing), many indicators that the American church is in trouble:

Church attendance is shrinking. While 40 percent say they attend church every week, the actual number is closer to 20 percent, and dropping.
Every year some 4,000 churches close their doors.
Almost every Christian denomination now reports year-over-year membership losses.
The authors' research uncovered four prominent reasons people avoid church today:
1. "Christians are judgmental."
2. "I don't want to be lectured about faith."
3. "The church is filled with hypocrites and know-it-alls."
4. "I don't experience God at church."
Why Nobody Wants to Go to Church Anymore uncovers some of the societal and generational trends that are negatively impacting the church, and offers practical solutions for re-engaging culture and overcoming the hurdles that are contributing to the decline.
According to the book's authors, "When we take a hard look in the mirror, we must confess: Our churches 'talk' love, but we don't really 'do' love. What we 'do' is more important that what we 'say.'"
The Schultzes have also written top-selling titles such as Why Nobody Learns Much of Anything at Church and The Dirt on Learning, which addressed many of the challenges that affect Christian education.
For more information or author interviews, contact Becky Hodges at bhodges(at)group(dot)com or call 970-292-4245.