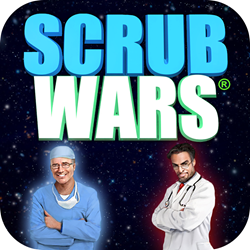 Scrub Wars® focuses on the national board exams for allopathic and osteopathic medical students. The first version covers material on the USMLE Step I (M.D.) and COMLEX level I (D.O.) exams.
Jackson, WY (PRWEB) October 23, 2013
Medical students can now master their board and course exams while they shoot asteroids all in one exciting app. Spaceship shooter game Scrub Wars® helps medical students learn basic science gems and clinical pearls so they can more easily memorize facts for their board vignettes and courses. Not meant to replace traditional study, the Scrub Wars® app reinforces high yield vital facts and can be played individually or in a study group. "Think of it like 'test prep steroids.' It's meant to augment the rigorous study regimen medical students need to pass their boards," said Vincent Stevenson, CEO of Precision Enterprises, LLC.
Scrub Wars® focuses on the national board exams for allopathic and osteopathic medical students. The first version covers material on the USMLE Step I (M.D.) and COMLEX level I (D.O.) exams. The $9.99 app is available on iPhone, iPad, and Android devices and offers 16 levels consisting of 1,000 questions written by professional test question writers – physicians, professors, residents, and medical students. Also available are $0.99 in-app purchases for 100 additional subjects and review questions. Future versions of Scrub Wars® are in production and will focus on specific medical subjects (pharmacology, anatomy, microbiology, and emergency medicine). In addition, other versions will focus on other exams including the NAVLE (veterinary board exam) and the NCLEX (nursing board exam).
Scrub Wars® has a professionally mastered space-age music soundtrack and features exquisite high resolution pictures from the Hubble space telescope, engaging players into the asteroid-crushing atmosphere – but the app is designed to be more than just informative. "We have invested heavily in character development, which draws players' interest beyond the fundamental study features of the app," said Vincent Stevenson. When players succeed, they are encouraged by the mentor, the Benevolent Attending. When players fail, they are mocked by their nemesis, the Peyronie Attending. "This app has a character that actually insults players and tears them to shreds if they don't know their stuff," said the CEO.
Tying into the app's storyline, Scrub Wars® also has accompanying critically-acclaimed YouTube videos that include informative infomercials, character development videos detailing how the Benevolent and Peyronie Attendings created Scrub Wars, uproarious parodies of other famous commercials and movies, and videos that poke fun at the medical culture. "Our YouTube videos expand on the characters, drawing players into the game. The main objective in creating these videos is to let medical students know that we understand their arduous path and understand the stressful culture they are coming from," said a company spokesperson. "We have exceptional videographers and studio actors who bring the characters to life."
Check out the Facebook, Twitter and Pinterest pages for game updates, promotions, and the ability to interact with both the Benevolent and Peyronie Attendings. Players are encouraged to share their own horror stories about medical school.
The inaugural version of Scrub Wars® (USMLE Step 1 and COMLEX Level 1) is scheduled to be released on January 7, 2014.
About Precision Enterprises, LLC:
Precision Enterprises, LLC is an American healthcare consulting and internet marketing company based in Jackson, Wyoming. The company is co-owned by a healthcare administrator and double-boarded physician (neurology and addiction medicine). A distinguishing hallmark for this consulting company is that it also simultaneously interacts with the community as a video production company. With access to top-notch actors, videographers, and directors, the company is known for producing innovative video productions designed to interject humor to easily convey complex topics in an easy-to-understand manner. Both sides of the company (healthcare and media expertise) have merged together to create Scrub Wars®.