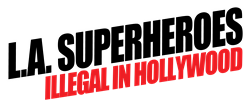 Amazing what can be accomplished with a few dollars and a lot of talent."Russell Simmons
New york, NY (PRWEB) October 22, 2013
"L.A. Superheroes" is a collection of real-life stories, witnessed firsthand, by the struggling artists that would go on to put this project together. Life in L.A. can be brutally difficult, especially if you are insistent on not "selling out"; and if you are an immigrant, things can get really complicated. Yelena is struggling to get by as an aging actress/model and immigrant, in a tough-as-nails business. When she is forced to operate outside the law to obtain her green card, she is faced with the consequences and realizes that the thing she values even more than her career is her integrity. Her only true friend in the city is Auto, a misfit pizza guy/musician, who steps up possibly risking his own life, without expecting anything in return. In the end Yelena discovers that true L.A. Superheroes aren't necessarily the most powerful and definitely aren't manufactured on a sound stage.
Where: Quad Cinema - 34 W. 13th Str, between 5th & 6th Ave (Avenue of the Americas)
Screenings: 5 showings/day - 1:10 - 3:20 - 5:30 - 7:30 - 9:35
Tickets: Advance Tickets Call 777-FILM (3636) or visit MOVIETICKETS.COM
A percentage of the revenue from L.A. Superheroes will go to help struggling immigrants through St. James ESL http://www.stjames-cathedral.org/esl/ and CHIRLA http://www.chirla.org/
In June 2013, 68 senators voted to pass comprehensive immigration reform bill, which is now scheduled to go before the GOP-controlled House. Immigration has been a hot topic within the media and the public for some time, however, many Americans don't realize the path to legal status may take decades and that many immigrants have very diverse backgrounds and don't always fit into stereotypes society has created.
"I was a model who had a very promising carrier ahead but couldn't quite utilize it fully due to immigration problems that haunted me for almost twenty years," says Popovic. "Only now can I find the humor behind the situations and struggles I experienced. This movie is a labor of love, and most importantly we didn't have to wait for anyone. Things happened organically and anyone who is an actor, director, musician or a writer in this town knows that you can wait for 'the phone call' or 'the money' for a lifetime and most of the time it doesn't happened. "Nowa-days, one can, and often has to, do it yourself," comments Alex Zisiades, who composed the music for the film, also contributed to the script and the character of Auto is based on him.
Yelena Popovic & Alexandros Potter founded Simeon Entertainment in 2008 with the intention of developing, producing and distributing feature films. Today, Simeon Entertainment is proud to be theatrically distributing "L.A. SUPERHEROES," a feature film, which they developed, directed, produced and fully financed.