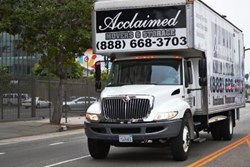 North Hollywood, CA (PRWEB) October 23, 2013
Local, long distance and international moving company Acclaimed Movers & Storage has enhanced their offerings to include specialized crating and packing. With thousands of people moving into, within and out of Los Angeles every year, crating and packing services are in demand more than ever. The full-service moving firm aims to address crating and packing needs with highly skilled packing professionals who offer a meticulous approach to packaging items for transport. Industrial-strength packing paper, super-thick moving blankets and exceptionally strong cardboard boxes will now be used, to ensure items are completely secure for travel to any destination. Bubble wrap, packing foam and other protective materials are liberally used to protect even glassware and ceramics against loss and breakage. All objects will undergo a full wrap and pack and be correctly itemized and labeled; the company will also keep an inventory. Custom crating is available for large or delicate items, such as pianos or antiques. Moreover, crating and packing experts will be carefully trained to ensure they meet Acclaimed Movers' exacting standards. Company insiders say that this new, more rigorous approach has elevated the crating and packing process to an art form.
A high level of crating and packing is just one of the ways Southern California-based Acclaimed Movers and Storage aims to solidify their reputation as a top luxury mover. Their suite of services extend beyond packing. Moving consultants work with clients to address budget and scheduling, while friendly and courteous movers handle all loading and unloading with exceptional care. Disassembly and reassembly of furniture, cubicles, equipment and more is done efficiently and correctly. The "green" fleet of 50+-foot-long moving trucks owned by Acclaimed Movers are outfitted with bio-diesel-fuel engines to lower their carbon footprint. The drivers operating these trucks are fully licensed and insured, with the experience and GPS units to avoid traffic, road hazards and inclement weather. Need storage? A vault-style, climate-controlled storage facility is ready to take in any belongings, including vehicles.
What really sets Acclaimed Movers and Storage apart from the competition, though, is their dedication to superior customer service. Friendly, courteous and knowledgeable professionals are the soul of the company, and it shows. Letting Acclaimed Movers handle a move means always having an ally throughout the relocation process. From the initial phone call to discuss moving requirements through packing, transport and the unloading of the final box, Acclaimed Movers and Storage is there for their clients. For more information and a free quote, contact the company by phone or online.