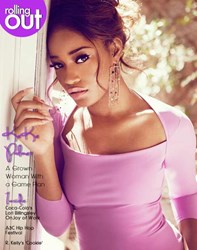 It was a dream come true.
Atlanta, GA (PRWEB) October 21, 2013
The transition into adulthood can be slippery for teen stars, to say the least. The gossip pages are filled with stories of former adolescent pin-ups like Miley Cyrus twerking or Justin Bieber speeding, but for former teen star Keke Palmer, the transition into adulthood has been far less hectic and less controversial.
"When people think of me initially, they remember me as 'Akeelah,'" she shares with celebrity journalist Todd Williams. "Sometimes it can be frustrating to be remembered at an age that you've outgrown."
Palmer is learning her place in life and in her career. Now, she tackles one of her most high-profile roles as she steps into the baggy jeans of one of the most beloved groups of all time. Palmer portrays Rozonda "Chilli" Thomas in the VH1 biopic "CrazySexyCool: The TLC Story."
"It was a dream come true," she says. "I never would've imagined that I would be doing something like that. Being a kid growing up and loving TLC and then doing the movie and playing my favorite member? It was overwhelming."
Visit rollingout.com to read the interview in its entirety. Be sure to check out the exclusive photo shoot and video footage with celebrity photographer DeWayne Rogers.
About rolling out Magazine:
Rolling out, the nation's largest free urban weekly, is a digital and print magazine that focuses on the black experience in response to entertainment, politics, fashion, culture, sports and lifestyle points of interest. Headquartered in Atlanta, rolling out is positioned as the voice for the African American experience, using its newspaper as a platform in the marketplace to express urgency for education reform, and to document entrepreneurial endeavors and other relevant issues in the Diaspora. For information on rolling out, please log on to rollingout.com.