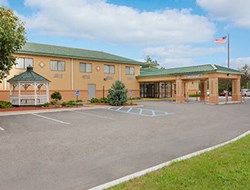 Our key focus is to come up with services and solutions that will ease the parking pains.
Albany, NY (PRWEB) October 23, 2013
Greenbee Parking, a leading airport parking company, has announced that their clients using the busy Albany (ALB) airport will now be able to enjoy the new cheap Albany airport parking rates whenever they travel and park here. As one of the fastest growing airports, Albany has recently seen a marked upsurge in flight frequency as well as passenger footfalls. The airport is also slated to see some major revamping and renovations coming up in near future which means that the traffic around the airport will also see a marked increase. This is a direct result of the increasing business that the airport is receiving and authorities are already hard at work to come up with multiple solutions to meet demands for more roads and direct lanes as well as extensive airport parking. Greenbee Parking has stepped in to the scene to aid in this process by offering different kinds of parking solutions and that too at very reasonable prices.
"Our key focus is to come up with services and solutions that will ease the parking pains and make travel enjoyable for our clients," said Christine Cooper – Marketing Coordinator, Greenbee Parking. "The new cheap Albany airport parking rates have been specifically introduced to offer great services without a premium attached to them."
Albany International Airport Parking Information
Albany International Airport is located northwest of Albany, in Albany County, New York and serves as a major alternate airport for the region catering to traffic flowing in and out of Western New England and Northeastern New York and as the chief port of entry to the town of Colonie. Located at the crossroads of Interstate Highways 90 and 87 it sees as much business traffic as it does for leisure. Spread over 1200 acres, the airport offers a wide range of services and top amenities for travelers. The authorities are particularly known for their careful consideration of passenger comfort and have been awarded the prestigious '1996 Balchen-Post Award for Outstanding Achievement in Airport Snow and Ice Control for U.S. Medium Commercial Airports'.
Recent multi-million dollar renovations have added a new 230,000 square foot terminal, Air Traffic Control Tower as well as more cargo facility while a five-year $232 million Capital Plan is on to improve on further traveler safety and comfort. Players like Greenbee Parking have come into the scene and have added to the positive traveler experience here. What has firmly clinched their popularity is the announcement of the discount cheap Albany airport parking rates which ensures great savings along with great service.
The Greenbee Airport Parking Solution
Greenbeeparking.com is the connection between consumers and parking vacancies in close proximity to major airports and seaports. The parking spaces are very affordable because the company has negotiated discounted rates with major hotel chains and parking lots for the parking spaces that are not currently occupied. Here's how it works.
Greenbee Parking puts the available inventory of parking spaces on their website to be reserved by business and leisure travelers looking for cheap airport parking. This alternative method for finding parking equates to significant savings for the traveler. You can learn more about their offers from (http://www.youtube.com/watch?v=WWLybHNYjYQ) or by visiting them on the web at (http://www.greenbeeparking.com).
About Greenbee Parking
Greenbee Parking is the nation's most innovative long term parking company, with a new way of making long term parking affordable. The company is rapidly adding new airports to its network.