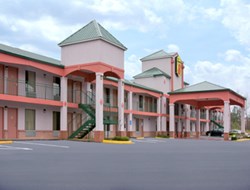 "We want all our customers to benefit from our services and enjoy healthy savings...."
Jackson, MS (PRWEB) October 25, 2013
Greenbee Parking, a growing airport parking service company, has just announced a series of new deals and discounts for travelers using the Jackson (JAN) airport. The advent of these new deals will provide travelers with more options to park their cars and also offer opportunities for almost 30-75% savings from the prices charged at the airport itself. Greenbee has formed strategic partnerships to ensure maximum benefits and comforts for all their customers. For long term customers of course there are amazing deals as always, but Greenbee has gone a step ahead and introduced mega savings option for even those who are booking the space for shorter durations. Travelers no longer have to hunt for Jackson Evers airport parking coupons to save on their parking expenses like they had to do in the past.
"We want all our customers to benefit from our services and enjoy healthy savings without worrying about the usual premium attached to great experiences," said Christine Cooper – Marketing Coordinator, Greenbee Parking. "We are confident that with our new deals we can compete with any Jackson Evers airport parking coupons and other similar offers hands down.
Jackson–Evers International Airport Parking Information
Jackson–Medgar Wiley Evers International Airport is a civil-military airport located in Jackson just across the Pearl River. It is a medium sized airport which offers multiple services for commercial travel as well as for private and military transportation. For its size, it remains quite a busy airport which is evident by the statistics shown in their official site. In 2012 alone the enplaned passengers were around 611,114, which shows how busy it keeps. It connects with 30 destinations and has non-stop connectivity with all the leading domestic cities. It ranked as the 8th-best airport in Airports Council International's (ACI) consumer survey in 2011 and was the only US airport to be ranked in the top 10. It is one of the fastest growing airports in the country and the authorities have come up with major renovation plans to extend the airport and meet with the rising business demands.
Players like Greenbee Parking have come into the scene with their innovative offers which has complemented the parking scenario well. Now travelers get to choose from wider parking options which are secure and affordable at the same time. They also have the opportunity to save 30-75% of their parking fees without having to look for Jackson Evers airport parking coupons.
The Greenbee Airport Parking Solution
Greenbeeparking.com is the connection between consumers and parking vacancies in close proximity to major airports and seaports. The parking spaces are very affordable because the company has negotiated discounted rates with major hotel chains for the parking spaces that are not currently occupied. Here's how it works.
Greenbee Parking puts the available inventory of parking spaces on their website to be reserved by business and leisure travelers looking for cheap airport parking. This alternative method for finding parking equates to significant savings for the traveler. You can learn more about their offers from (http://www.youtube.com/watch?v=WWLybHNYjYQ) or on the web at (http://www.greenbeeparking.com).
About Greenbee Parking
Greenbee Parking is the nation's most innovative long term parking company, with a new way of making long term parking affordable. The company is rapidly adding new airports to its network.