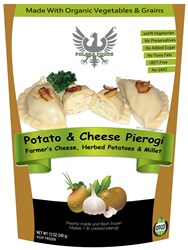 We are proud to offer our bulk pierogi to kitchens so customers can have immediate access to fresh, hot pierogi made with organic ingredients.
Saratoga, CA (PRWEB) October 22, 2013
Polska Foods®, a pierogi manufacturing company, today announced that three of its pierogi flavors gourmet pierogi with organic ingredients will now be offered for wholesale bulk purchase. To kick-start the bulk program, two regions of Whole Foods Market will offer Polska Foods' pierogi in their hot delis and as a Grab n' Go item, starting this month.
"Although we are still committed to our retail sales, offering our bulk pierogi to kitchens and delis across the West Coast is a great expansion opportunity," said Tomasz Piszczek, founder and VP of Operations. "Hot bars are an important item in grocery stores and retailers such as Whole Foods demand the best in terms of quality, taste, and convenience. We are proud to offer our pierogi to their kitchens so customers can have immediate access to fresh, hot pierogi made with organic ingredients."
Pierogi are dumplings of delicate dough, typically boiled and topped with caramelized onions and sour cream— stuffed with sauerkraut and mushrooms or potatoes and farmer's cheese. Enjoyed in Poland since the thirteenth century, today pierogi are loved by all ages and touted as Martha Stewart's favorite food. They were also popularized by The Pittsburgh Pirates yearly "pierogi race" and Indiana's "Pierogi Festival" which attracts over 200,000 yearly visitors! While pierogi are often eaten as a main dish in Canada and European countries, Americans often consider them a side dish. They pair well with kielbasa, cabbage dishes, salads, or any meat dish.
Polska Foods is bringing back this classic dumpling, enjoyed the way grandma made them—with fresh ingredients and nothing artificial. That is why the company uses organic ingredients, cold-pressed oils, fresh vegetables, ancient whole grains, handcrafted farmer's cheese, and slowly cooks each stuffing flavor to perfection.
Bulk flavors currently available are Potato Cheese, Cabbage Mushroom, and Savory Beef & Pork. Visit the website for more information about buying Polska Foods' pierogi.
About Polska Foods®
Founded in 2011, Polska Foods offers specialty, organic pierogi from their grandma's kitchen in Lubiechowa, Poland. Sold in retail and bulk packaging. They offer five pierogi flavors with carefully selected ingredients such as fresh organic vegetables, organic ancient grains, and award winning handcrafted farmer's cheese (rBST free and Kosher). Their pierogi contains no preservatives, no MSG, no GMO ingredients, and absolutely nothing artificial. Flavors include: Potato Cheese, Whole Wheat Potato Cheese, Mushroom Cabbage (vegan), Spinach Feta, and Savory Beef & Pork Pierogi. They also use only organic or expeller-pressed oils--no trans fats in any products. Polska Foods' pierogi is made fresh and then frozen to maintain quality and freshness, not precooked. Their pierogi is certified organic by Oregon Tilth. For more information about Polska Foods' pierogi products, visit http://www.polskafoods.com.