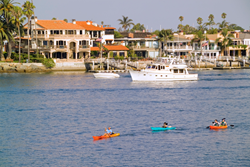 "from hiking trails with panoramic ocean views to kayaking and stand up paddleboarding in the peaceful bay, there's so much beauty in the destination, I never feel unmotivated to work out," says Vicki Higgins chief marketing officer, Newport Beach & Co.
Newport Beach, CA (PRWEB) October 22, 2013
For most, exploring nature trails or biking along a scenic path in warm weather is unfortunately not an option anymore. The last autumn leaves are falling, winter clothes are unpacked and the first snow sightings are starting to emerge.
With the holidays right around the corner and with the pressure to look your best, why not retreat in the most beautiful recreation city in the fall? Offering the outdoor enthusiast a sunny playground to shape up on land and water, retreat to Newport Beach, CA this fall! You can have your pick of recreational paths or aquatic activities, while taking in the natural beauty of Newport Beach and relishing the sunny Mediterranean weather.
"As a local, I like take advantage of the active lifestyle in beautiful Newport Beach," says senior vice president & chief marketing officer at Newport Beach & Company, "from hiking trails with panoramic ocean views to kayaking and stand up paddleboarding in the peaceful bay, there's so much beauty in the destination, I never feel unmotivated to work out."
Here are the top locations and activities to get fit on land and water.
Paths to Success:
Enjoy the many picturesque biking, running and walking trails throughout Newport Beach:

Balboa Island: Quaint and charming Balboa Island offers a 2.6-mile walking path around the perimeter of the island. You can do your cardio while observing beautiful beach cottages and action-packed Newport Harbor.
Back Bay: The tranquil Back Bay offers a rustic trail around the 10.5-mile bike or run path. You will take in the authentic California foliage while sweating it out.
Balboa Peninsula: You can take the oceanfront boardwalk from the tip of the peninsula all the way north along the coastline to neighboring cities. If you want to stay in Newport Beach, bike, skateboard, or rollerblade along the 3-mile trail from start to finish.
Pier to Pier: Hit the sand for a 2-mile run from Newport pier to Balboa pier, located on Balboa Peninsula.
Corona del Mar: Run the stairs at petite family beach, Corona del Mar, where you can see boats of all size cruising in and out of Newport Harbor's entrance while you feel the burn.
Crystal Cove State Park: Not only are there miles of trails several with ocean views, there is also a flat biking and walking path perched upon a bluff with an endless ocean view.
"I absolutely adore living on Balboa Island," Newport Beach resident Sarah Marshall says, "I can walk my dog around the island's path for fresh air and a view that's unlike any other in Southern California."
Workout on the Water:
Did you know that Newport Beach has the most outdoor water recreation space in all of Orange County? Here are options you can choose from:

Beach: Recognized by the National Resource Defense Council and Heal the Bay, take advantage of one of the cleanest and safest beach in the country. Try yoga on the beach, swimming, surf lessons or body boarding in the waves.
Newport Harbor: There are a number of fun activities to do in Newport Harbor. And the best part is that you will forget you're working out. Try outrigger canoeing, kayaking, stand up paddleboarding, stand up paddle yoga or even a 10-person stand-up paddleboard.
Back Bay: Glide through the calm waters of the Back Bay via stand-up paddleboard, paddleboat, kayak, rowboat, or outrigger canoe.
Newport Beach is an extremely active community and invites visitors to join in on the fit fun. From biking trails and running paths and to surfing in the ocean and kayaking in the bay, Newport Beach is the ultimate outdoor aficionados' playground. With holidays right around the corner, you'll want to get fit in Newport Beach this fall.
###
About Visit Newport Beach Inc.
Visit Newport Beach Inc. is a not-for-profit, 501(c)6 destination marketing organization that positions Newport Beach as a premier visitor and conference destination. For more information, go to VisitNewportBeach.com