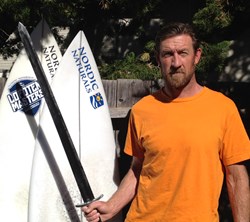 Lofoten Masters was an amazing adventure.
Watsonville, CA (PRWEB) October 22, 2013
Against the backdrop of a breathtaking Norwegian landscape, the 7th annual Lofoten Masters international surf competition concluded Saturday, October 12, after three days of thrilling competition in the frigid waters above the Arctic circle. The event—the world's northernmost surf contest—drew almost 100 surfers from around the world. Winners were announced Saturday night at the closing ceremony, held at the Lofoten Viking Museum. Each winner took home a traditional Viking sword as a remembrance of a surfing experience they won't soon forget.
First place winners are:

Lofoten Masters Open: Luca Petersen Guichard, Norway/Portugal
Lofoten Masters Ladies: Gilvanita Ferreira, Brazil
Norwegian Champions Open: Åge Obrestad
Lofoten Masters (35+): Shane Desmond, USA
Norwegian Champions (35+): Frode Goa
Lofoten Masters Longboard: Roar Berge, Norway
Juniors: Lars Benjaminsen, Norway
California surfer Shane Desmond represented Nordic Naturals, the event's main sponsor, as part of Team Nordic Naturals. Desmond reflected on his first experience surfing in Norway. "Lofoten Masters was an amazing adventure. It was an honor to represent Nordic Naturals in Norway and see firsthand the beautiful land, the fjords and mountains," he said. "A highlight was the hospitality of the Norwegian people and spending time with surfers from around the world. Ultimately, it was fantastic to get good waves and accomplish my goal to win my Master's Division."
Organized by surfers for surfers, the Nordic Naturals Lofoten Masters is a unique, independent event hosted by Unstad Arctic Surf, the world's northernmost surf school, and by two board riders clubs, Lofoten Ekstremsportklubb and Arctic Surfers. Looking to next year, founder and organizer Tommy Olsen said, "We are already planning an even better event for 2014."
Joar Opheim, CEO of Nordic Naturals and a Norwegian native, attended the festivities. "This was a special event that shared the warmth and beauty of my homeland with the world," Opheim said. "We are very proud of Shane and all those who participated in Lofoten."
A complete list of winners is posted at http://www.lofotenmasters.com.
Based in Watsonville, CA, Nordic Naturals is committed to delivering the world's safest, most effective omega oils to help further its mission of correcting the global omega-3 deficiency. Distributing to more than 35 countries, Nordic Naturals offers over 150 products in a variety of flavors and formulations for adults, kids, athletes, and pets. As the number one fish oil in the United States, Nordic Naturals has revolutionized omega-3s, pioneering a new definition of fish oil quality as it relates to purity, freshness, taste, and dosage. Further information is available at http://www.nordicnaturals.com.