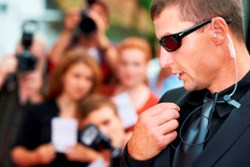 Private security firms are providing the solutions to meet the increased demand for not only protection, but prevention.
New York, New York (PRWEB) October 22, 2013
Law enforcement partnering is an area of great demand in the security industry and one Global Elite Group (GEG) is offering a customized approach through its private security services. Private security firms like GEG are filling the void and providing much needed coverage for corporations, institutions and individuals requiring additional security for any reason.
GEG reports the increased need for these services stem from a heightened awareness of potential threats and dangers in office buildings, sports arenas and major events where large groups of people gather. "Each terror incident, such as a school shooting, alerts us to emerging risks where a contingency plan needs to be reviewed to incorporate new threat scenarios. Working with law enforcement is just one necessary component to get the job done. The other is having a private security firm ready to cover your security requirements in a proactive manner, not just after a security breach," stated William McGuire, President & CEO of Global Elite Group.
With shrinking municipal budgets and sophisticated criminal activity affecting every industry, private security firms are providing the solutions to meet the increased demand for not only protection, but prevention. There has also been awareness coming from law enforcement as public organizations emerge to help bridge the talents of security companies in the private industry with public sector law enforcement; thus demonstrating the necessity of talent sharing and benefits from synergy. "The growth of private security companies providing specialized security for all sectors is growing exponentially. Clients recognize this from a liability and business continuity perspective," added Bryan Davis, Vice President Sales & Marketing, GEG.
The private security services such as force protection, private security patrolling and newly introduced canine explosive detection from GEG are provided on a regular basis to companies in every market segment. "GEG has developed new services to meet client expectations and provide security support where and when it is needed. The demand of this specialized service reflects on the awareness our clients have to protect themselves," explained McGuire. The services GEG provide are performed by former law enforcement and military trained professionals who are fully vetted and their credentials are matched with each assignment.
Continued growth for private security services is supported by an increased risk of crimes not only coming from conventional sources, but from terrorist threats and other white collar crime avenues. The cost of not being prepared is too high for companies to absorb compared to the outsourcing of these services to specialized security firms which can support law enforcement and in-house strategies.
About Global Elite Group: With offices located throughout the world, the company provides security and emergency management services for companies of all sizes and is known for its emergency contingency planning in all markets and its aviation security programs for over 28 airlines located in the U.S. and abroad. The company is always expanding service offerings to compliment the security needs of individuals, companies, high profile travelers and events. The company is TSA certified to provide screenings to individuals and groups. Global Elite Group is a full-service event security management company with security details available for deployment to cover small venues to large-scale multi-location events. Other services include risk assessments and asset protection.