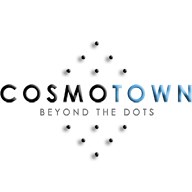 Palo Alto, CA (PRWEB) October 23, 2013
Cosmotown, a relative newcomer to the domain name industry, claims to offer the lowest cost of domain ownership, with renewal prices that are the same as new registrations and free whois privacy for as long as the domain is registered with them. They are now backing their claim with the strongest price guarantee in the domain industry. Previously, their price guarantee lasted 60 days and did not include renewals. However, they are so confident that their regular prices are the lowest, they are now giving customers a full year to find a lower price.
That means if a customer were to find a lower regular price on their domain within one year of registering, Cosmotown will refund the customer double the difference in price. If the domain is then renewed with Cosmotown – the guarantee will be renewed as well.
Here's how the price guarantee works:
1) Register, transfer or renew a domain with Cosmotown.
2) Find a lower regular price on a domain registration, transfer, or renewal within 12 months of purchase with Cosmotown
3) Cosmotown will refund the customer double the difference between the price the customer paid with Cosmotown and the lower advertised price.
4) Guarantee excludes other registrars' promotional pricing, limited time offers, coupons etc.
Many people do not realize that nearly every registrar, other than Cosmotown, raises their prices after one year. Domain prices may not seem high but they certainly add up over time, especially when multiple domains are owned. Most registrars also charge for the basic right to protect customer's private information. Sometimes Privacy Protection can cost more than the domain registration itself. Cosmotown offers a domain registrar price comparison chart that compares the cost of domain ownership with several of the leading registrars.
When compared side by side, the results are shocking. Over a 5 year period, a .net with privacy protection with Go Daddy will cost nearly $100 (150%) more than Cosmotown's 5 year cost, and Name Cheap is not as cheap as the name implies.
Cosmotown has quickly gained a loyal following by offering rock bottom prices that last, free Whois Privacy Protection and delivering an overall great customer experience. Customers who are tired of the bait and switch games and are looking for a simple registrar, should check out Cosmotown and compare for themselves. With the new price guarantee, customers truly have nothing to lose.
Cosmotown is a global domain name registrar headquartered in Palo Alto, CA, in the heart of Silicon Valley. Accredited by ICANN in 2010. Cosmotown is backed by the financial strength of our majority shareholders Crosscert, Inc and Symantec, Inc. Crosscert, Inc has been a market leader in internet based trust services since 1999 and publicly traded since 2010. Symantec, a Fortune 500 publicly traded company, is the world's most trusted name and global market leader in website security as well as storage and systems management solutions.