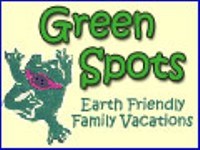 Sharing a green vacation with your children is a terrific way to combine responsible living with family fun.
Tampa,Florida (PRWEB) October 23, 2013
Just how green will your next holiday be? TheFamilyTravelFiles.com has just added seven new "green" family vacations to its popular Green Spots vacation planning folder which includes responsible travel ideas and with earth friendly family vacation ideas.
Many parents maintain green households engaging daily in responsible living by conserving water, recycling, and carpooling. An extension to this practice is to learn earth friendly ways to vacation. Their choices include not just traditional "leave no trace" camping holidays but earth friendly resorts, and urban locations with sustainable practices.
The best green family vacation ideas combine earth-friendly practices with remarkable family experiences.
Austin Family Adventure Vacations utilize earth-friendly practices on all of their escorted tours which combine fun and learning for families with children ages seven or older. From Yellowstone and Montana to the cloud forests of Costa Rica seeing, doing, and sharing make each departure unique.
Offering hands on science at its best makes, Earthwatch Institute is authentically green. The field projects nurture our planet and provide participants with ways to make a difference. For families, Earthwatch creates family teams for many of their eco-expeditions. Each year Sierra Club creates unique outings for families some dedicated to fun learning and others with a focus on service. Each trip offers earth-friendly activities with a leave no trace philosophy.
The Arizona high desert offers a remarkable experience for families at Biosphere 2 just north of Tucson where visitors are able to enter self-contained eco systems and observe scientists at work. The Eden Project in Cornwall maintains the world's largest man-made rain forest under one dome.
On Costa Rica's Pacific side, Flamingo Beach Resort and Spa makes it easy for parents and grandparents to vacation "green" with their young companions. Concordia Eco Resort on St. John USVI hosts families in eco-tents with awesome views of the sea.
Green Spots vacation planning folder includes many family vacation ideas to inspire parents and family members to plan a green getaway together and share the good stuff.
More terrific family vacation ideas may be viewed at theFamilyTravelFiles.com or for the latest family travel news, follow The Family Travel Files on Twitter (@FamTravelFiles) straight from the homepage.
About theFamilyTravelFiles.com. Founded in 1998, theFamilyTravelFiles.com researches and posts the good stuff making it easier for parents or grandparents to plan great family vacations. The top-rated online family travel resource offers more than 1000 pages of family vacation ideas and trip planning information. The website specializes in destination and planning information, family travel advice, and family travel deals. The site features a number of vacation idea folders including Secret Places, All Inclusive, Reunions, SnowPlaces, and Away for the Holidays.