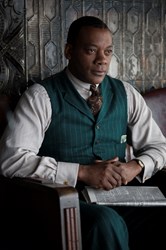 The character of Dunn, he's an opportunistic guy. So he's going to do whatever is needed or whatever it takes to advance his own autonomy.
(PRWEB) October 22, 2013
Erik LaRay Harvey is one of the most imposing figures on 'Boardwalk Empire,' a show that is rife with intimidating men. Now amid Season 4, Harvey's character Dunn Purnsley has become one of the most popular characters among the ensemble—yet Dunn was originally scripted to only appear in a single episode. Harvey's performance was in that episode was very strong and his interest in the Dunn Purnsley character was even stronger; to the delight of his fans, the producers saw fit to extend his storyline.
Harvey chatted with TVRage.com's Co-News Editor, Adam Langton, about how he approaches Dunn's scenes, from reading the script to creating his imposing presence on screen. He also chats about his response to first reading his scenes from the premiere of Season 4, where Dunn was at the center of one of the most intense scenes of 'Boardwalk Empire's entire run.
Here's an excerpt:
"TVRage: Speaking of the process of going from the page to the screen, what went through your mind when you first read the script for this season's premiere, when you realized you were going to be filming one of the most intense scenes in the show's history?
ELH: *Laughs* Oh… *Laughs* … Shock. Haha, definite shock. I was like "whaaaat, you want me to be naked?"
TVRage: *Laughing*
ELH: It was my first nude scene. It was what was required, it was what the writers had planned. I'm just the actor, I'm the medium between the two, so I sort of put my personal feelings aside and just tried to service the character. And fortunately the other actors in the scene with me felt the same way as me, as well. So we all got through it."
Harvey also promised that the upcoming episode of 'Empire' will contain a huge shock, naming it his favorite of the series. Check out the full interview here: http://www.tvrage.com/news/8294/exclusive-erik-laray-harvey-talks-boardwalk-empire-and-dunn-purnsley.
'Boardwalk Empire' airs Sundays at 9 p.m. on HBO.