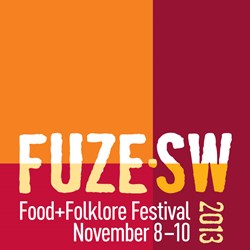 Santa Fe, New Mexico (PRWEB) October 22, 2013
Santa Fe's first-ever food conference, FUZE.SW, is a celebration of New Mexico food and folklore bringing together local and nationally recognized James Beard Award-winning chefs and authors, as well as historians, scholars, poet laureates, story tellers, and even artists the weekend of Nov. 8 – 10, 2013 at the Museum of International Folk Art.
FUZE.SW presenters will explore the past and present, the folklore and customs that created a uniquely New Mexican culinary tradition — transported globally — in a series of keynotes, talks, panel discussions, breakout sessions, creative interludes, and — of course — food!
Festivities begin on the Friday afternoon when Bill and Cheryl Alters Jamison, James Beard Award-winning authors of more than a dozen cookbooks, lead an optional cooking class at the Santa Fe School of Cooking on traditional New Mexican holiday fare. This is followed by a lively opening reception, hosted by the school and showcasing their chefs' delectable foods, as well as New Mexico wines, and entertainment by Santa Fe's favorite New Mexican ranchera singer Nacha Mendez.
During the weekend, FUZE.SW participants will sample mate and tapas, make papel picado decorations, dig in at the burrito bar, sip some gin and other libations made here in New Mexico with local ingredients, and otherwise get a taste of the full flavors of New Mexico.
The panel debating the virtues of northern vs. southern New Mexican chile is sure to be a hot topic as will be the one on the flavors and merits of the now notorious Frito pie (thank you Anthony Bourdain). Other conversations will delve into the stories and traditions cookbooks tell, and more.
Each evening, nationally recognized restaurant partners Taberna, La Boca, Anasazi Restaurant, and Restaurant Martín will contribute to memorable dining experiences.
These events are woven together with keynote presentations by Dr. Jeffrey Pilcher (Planet Taco), Maricel Presilla (Gran Cocina Latina), Gustavo Arellano (Taco USA), and John Sedlar most recently of Los Angeles' restaurants Rivera and Playa.
Hungry FUZE-ers on Sunday will be treated to a brunch served by Four Seasons Rancho Encantado Chef Andrew Cooper's Taste Truck and Chef Josh Gerwin's Dr. Field Goods Food Truck. Each chef will give their own spin on New Mexico's signature dishes they've developed just for this event.
In New Mexico, food and the land in which it is grown is part of our DNA; food dominates our conversations; treasured family recipes are cause for heated debate; and, especially during chile harvest season, food is an always above-the-fold news item. Santa Fe and New Mexico are fertile grounds for a serious conversation about local cuisine and the mixing of customs and cultures.
The nitty-gritty: Tickets for the festival are $250; $200 for Museum of New Mexico Foundation members. For tickets call (505) 476-1126 or email Shirley.Lujan(at)state(dot)nm(dot)us. Updated information is posted on the FUZE.SW Web site, fuzesw.museumofnewmexico.org. Admission includes two lunches, one breakfast, and serves as an all access pass to the exclusive opening night reception at the Santa Fe School of Cooking with entertainment by Nacha Mendez, plus two days of talks, tastings, and more. Not covered are transportation, accommodation, and dinners (however participating Dine Around restaurants will offer specials for ticket holders).
A schedule of events and FUZE.SW updates are found on the event website; http://fuzesw.museumofnewmexico.org/.
FUSE.SW 2013 is sponsored by the Santa Fe School of Cooking, Santa Fe Spirits, Kakawa Chocolate House, Santa Fe Culinary Academy, Hilton Santa Fe Historic Plaza, Sage Inn, Hotel Santa Fe, Edible Communities, Museum Hill Café, Museum of International Folk Art, International Folk Art Foundation, Museum of Indian Arts and Culture, Museum of New Mexico Foundation.
Media Contact:
Steve Cantrell
PR Manager, New Mexico Department of Cultural Affairs
505-476-1144
Steve.Cantrell(at)state(dot)nm(dot)us
FUSE.SW Presenters
Estevan Arellano (New Mexico historian)
Gustavo Arellano (syndicated columnist, author Taco USA)
Hakim Bellamy (Poet Laureate of Albuquerque)
Tony Bennett (proprietor, Kakawa Chocolate House)
Juan José Bochenski (Chef, Anasazi Restaurant)
Paul Bosland, PhD (Director, NMSU Chile Institute)
Thomas C'de Baca (nephew of cookbook author Fabiola Cabezza de Baca)
James Campbell Caruso (Chef, La Boca and Taberna)
Nicolasa Chávez (Curator of New World Cuisine)
Andrew Cooper (Chef, Four Seasons Rancho Encantado)
Patricia Crown, PhD (Professor of Archaeology, UNM)
Susan Curtis & Nicole Curtis Ammerman (proprietors, Santa Fe School of Cooking)
Rob DeWalt (Senior Editor, New Mexico Magazine)
Dave DeWitt (chile expert and historian)
Rocky Durham (Chef, Santa Fe Culinary Academy)
Bill and Cheryl Alters Jamison (authors of numerous award-winning cookbooks)
Damian Flores (poet)
Nasario Garcia, PhD (New Mexico state folklorist)
Josh Gerwin (Chef, Dr. Field Goods)
Judith Hill (Poet Laureate)
Colin Keegan (proprietor/founder, Santa Fe Spirits)
Joan Logghe (former Poet Laureate of Santa Fe)
Deborah Madison (author)
Valerie Martinez (former Poet Laureate of Santa Fe)
Nacha Mendez (entertainer/singer)
Carmella Padilla (historian, author)
Jeffrey Pilcher, PhD (Professor of History, U of Minnesota)
Maricel Presilla, PhD (author, chef)
Martín Rios (Chef, Restaurant Martín)
Lois Rudnick, PhD (historian, scholar)
Tracy Ryder (President & CEO, Edible Communities)
John Sedlar (Chef)
Elizabeth Titus, PhD (Dean of the Library, New Mexico State University)
Catalina Delgado Trunk (paper artist)
Don Usner (storyteller, author, photographer)
(As of October 16, 2013)