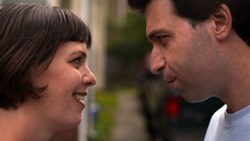 Los Angeles, CA (PRWEB) October 22, 2013
As director Greg King's short film, Glass Sun, was named the recipient of the Grand Prize during the 2013 On Location: The Los Angeles Video Project and the after party began, the team at NewFilmmakers Los Angeles began setting up for their next screening, the NewFilmmakers LA Film Festival taking place October 26th at the AT&T Center in downtown Los Angeles.
With both World Premieres and Festival Premieres, the October 26th screening includes both comedic and dramatic short films and a comedic feature. From a wife taking desperate measures to make her husband quit smoking in order to start a family, to jaded waitresses and pizza boys getting revenge, fantasy heroes, two strangers connecting, and a young boy and a bright pink bouncy ball, each program has something for everyone.
A red carpet after party includes current hits spun by a local DJ, and an opportunity to sip a cocktail amongst the beautiful historic buildings of downtown Los Angeles while mingling with the filmmakers, casts, and crews of the films screening.
The October 26th screening program includes:
Full Circle (Dir. Solvan Naim) -- An action comedy about a Brooklyn pizza boy who seeks revenge on a local neurotic thug after his best friend is killed in a case of mistaken identity.
Solvan Naim makes his feature film directorial debut with Full Circle. An Algerian-American rapper and music video director, Naim filmed on location in his native Bushwick, Brooklyn, NY. The cast of Full Circle includes Naim as the lead character Antoni, the Brooklyn pizza boy, Kelvin Hale (CBS' "Blue Bloods", Girls Against Boys), and Rob Morgan (Pariah, Monica Z).
We Could Be Your Parents (Dir. Charlie Anderson) -- Sue wants to have a baby, but first she needs her husband to quit smoking. Bob has been trying and failing for months now, so Sue gives him some added incentive: no sex until he successfully quits.
Director Charlie Anderson won back-to-back awards at the 2009 and 2010 CINE Competition for his directorial debut, Werewolf Trouble; the CINE Golden Eagle in 2009, and the CINE Special Jury Award in 2010. At the Rhode Island International Horror Film Festival, Werewolf Trouble picked up an award for Best Makeup FX.
His latest short film, We Could Be Your Parents, stars Alex Karpovsky from the hit HBO series "GIRLS" and the indie darling Inside Llewyn Davis, and Alycia Delmore who appeared in Jonathan Lisecki's 2012 film Gayby, and Lynn Shelton's current indie film release Touchy Feely, starring Rosemarie DeWitt, Ellen Page, and Allison Janney.
At the End of the Night (Dir. John McCracken and Danny Finn) -- World Premiere. Ron and Veronica are a newlywed couple, who attempt to mix their individual friend circles with a party game revealing personal secrets. But no one could anticipate what they would learn about each other and how it would challenge their preconceptions about one another.
Deflated (Dir. Dustin Shroff) -- Chris has come to the super-store with his dad to spend his allowance − his heart set on getting a bouncy ball. But when he gets to the toy aisle, he soon discovers that all of the balls in the ball cage are bright pink...except for one deflated green ball. What follows is a fantastical awakening as the pink balls come to life and Chris is swept up in a world where it's okay for boys to play with pink. But ultimately he must make a choice: take home one of the bright pink balls or the deflated green ball?
Juice of My Heart (Dir. Carol Rhyu) -- It's hard to get a little respect these days. A jaded waitress finally gets revenge.
Layover (Dir. David Aslan) -- Two strangers, a down-on-his-luck salesman and a young bride-to-be, discover an unusual connection in the bar of an airport hotel while waiting for separate flights.
MonoMyth (Dir. Sam Cooke) -- Winona is a young woman struggling to become a fantasy novelist despite her financial situation, family troubles, and social isolation. She creates a character named Oraflex, a valiant hero who fights evil and saves the world, but her imagination is stunted by the mundanity of her own life. Winona forms a relationship with Jason, an older man and fellow recluse who she meets in her creative writing workshop, in an attempt to alleviate her sense of alienation.
Stalking Dixie (Dir. Noah Mucci) -- World Premiere. As actress Dixie Perkinson struggles to make her way in Hollywood she's forced to enlist the help of her panty-stealing, highly dedicated stalker Neil. Now presented with a new opportunity to win the love of the talented object of his affections, Neil sacrifices body, mind, and pride to further her career.
The Drain (Dir. Collin Blair) -- Steve is bearing the weight of his isolated existence, when a person enters his world. That person happens to be his bathtub drain.
AT&T Center is the Presenting Venue Sponsor of NewFilmmakers Los Angeles. Producer's Circle Sponsors include SAG-AFTRA and Wells Fargo.
To purchase tickets for the NewFilmmakers LA Film Festival on October 26th, 2013, please visit http://www.newfilmmakersla.com.