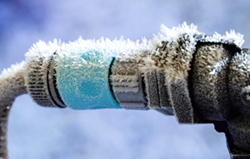 Kennewick, WA (PRWEB) October 23, 2013
Homeowners should begin protecting and winterizing their sprinkler and irrigation systems before the first frost hits, according to the experts at Senske Services. They say before winter weather arrives it is important to "blow out" any yard irrigation systems which extend beyond installed pipes. While a homeowner may have drained the sprinkler system on his own there may still be water within the pipes that will turn to ice, expand, and potentially crack the pipes once the temperature dips. A professional irrigation blowout minimizes the risk of damaged pipes by flushing out any water lingering in the pipes.
Irrigation systems are part of each home's overall property value. So it is critical for homeowners to make sure that the professional they hire to blow out their sprinkler system today will be able to guarantee the work if there are issues in the winter. "Otherwise, the homeowners may be faced with costly repairs in the spring as a result of broken pipes," states Tony Fisher, General Manager.
Fisher recommends leaving this portion of yard maintenance to a trained, experienced professional. Not properly vetting a contractor to perform a blowout places the homeowner at high risk of damage once the weather warms. While there are many companies out there offering a low-cost winterizing solution, Senske Services recommends that homeowners ask the following questions before hiring a contractor to perform this task:
1. How long has the contractor been in the business winterizing irrigation systems?
2. Does the contractor have insurance?
3. Does the contractor have a business license?
4. Does the contractor guarantee the work against any potential damage to the system that may occur?
5. Does the contractor have online reviews about their performance and customer service?
Whatever a homeowner decides, it is important to act sooner rather than later. As the weather gets colder, the risk of frozen water in pipes increases. Senske Services is currently scheduling appointments for winterizing sprinkler and irrigation systems for homes and businesses within its service area. Appointments may be booked by calling (877) 944-4007 or by visiting their website for more information.
About Senske Services:
Senske Services, Inc. is a leading lawn, tree and pest control service provider that is locally owned and operated, with its corporate office based in Kennewick, Washington. It has been a trusted source of lawn, tree and pest control services since 1947 across Eastern Washington, Idaho, and Utah, as well as pest control in Las Vegas, Nevada. To see what Senske Services can do for you, visit http://www.senske.com.