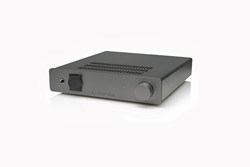 Fremont, CA (PRWEB) November 19, 2013
NuForce Inc, a world leader in professional and consumer audio, introduces the HA-200, a high performance headphone amplifier engineered to satisfy the requirements of the most critical headphone enthusiasts.
Single-Ended (SE) Design:
The HA-200's pure Class-A circuitry employs only a single output device per channel, which is considered by discriminating listeners and professionals alike to be the purest form of amplification. Simply put, the SE topology completely avoids output stage crossover distortion. Configured for standard stereo use, the HA-200 operates in full SE Mode.
Constant-Current Output:
The HA-200 output circuit operates in Constant-Current Mode, which enables it to effortlessly drive any set of headphones – even those that exhibit erratic impedances across the frequency spectrum. By constantly adjusting the output voltage vs. impedance, the HA-200 avoids the performance anomalies that often plague other amplifier designs.
Balanced Headphone Mode:
Unique to the HA-200 is its ability to quadruple output power by adding a second unit and operating them together in Balanced Headphone Mode. For this configuration, the listener uses the XLR inputs and outputs on each HA-200 along with a special cable adaptor.
In Balanced Mode, four separate amps (two per unit) drive the stereo signal's four phases (right normal, right inverted, left normal, left inverted). The principal benefit is that available output power is quadrupled while the effective slew rate (an amplifier's maximum change in voltage per second) is doubled. The combined effect is to enhance the music's dynamic realism while also imparting a more natural, transparent and fatigue-free presentation.
Specifications
Frequency Response :20Hz - 20kHz, -0.1dB, 300 Ohm load
Recommended Headphone impedance:32 to 600 Ohm
Output Voltage and power (RMS):1kHz **16 Ohm, 2.8Vrms, 0.5Wrms 30 Ohm, 5.6Vrms, 1Wrms **300 Ohm, 8.3Vrms, 0.22Wrms High Z, 8Vrms
Balanced Mode:200 Ohm, 14.6Vrms
Maximum Output:2W @ 32 Ohm, Balanced mode 8W @ 64 Ohm
THD + N:0.002%, om 20-20kHz, 1kHz, 1Vrms
SNR:>120dB, weighted 2Vrms
System gain:10dB
Input impedance:22 kOhm
Output impedance:5 Ohm
Power Consumption:22W
Pricing and availability
The NuForce HA-200, available worldwide at a suggested retail price of $349 USD, will be shipping in Late November, 2013.
About NuForce
Based in Fremont, California, NuForce first gained acclaim for its patented audiophile-grade Class-D power amplifiers that have earned numerous awards from audio publications in the U.S. and Japan. Building upon its reputation as a company that develops state-of-the-art products, NuForce has worked diligently to expand its product line with digital-to-analog converters, in-ear and over-ear headphones, speakers and subwoofers, cables, additional home and headphone amplifiers, and other quality audio accessories. In every product and in every way, the NuForce brand offers superior engineering in designs of simple elegance. Sold internationally, NuForce remains firmly committed to value and integrity in the production of high-performance consumer electronics adhering to stringent quality standards.