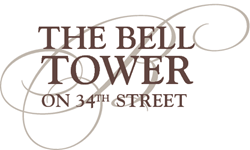 Wedding venues in Houston
Houston, TX (PRWEB) October 23, 2013
It comes as no surprise that once again the Bell Tower on 34th has received accolades as one of the best wedding venues in Houston. Straight out of a Hollywood set, the ambiance at The Bell Tower on 34th trumps all other wedding venues. Dotted with an old world Italian style of grand ballrooms, classy wine rooms, balustrade balconies and picturesque outdoor courtyards, The Bell Tower on 34th is picture perfect for your special wedding day. This upscale wedding venue can accommodate just about any amount of wedding guests and provide them with valet service. Each grand ballroom features its own bar and restrooms for convenience.
Each couple receives a personal wedding coordinator to custom design the special event. Choose from a menu of culinary delights, and all culinary staff and servers are included in the price. They also provide partners for the wedding cake, music and special decorations. With designer stemware, china, silverware and floor length linens, the tables are ready for royalty. Amid adjustable ballroom lighting to add atmosphere to the occasion, musicians and photographers have access to the loft balcony.
In addition to unparalleled service, The Bell Tower on 34th delivers uncompromising value. Brides are privy to use of the Bridal Salon for portrait sessions, and grooms are provided with a special voucher for a free tuxedo at Al's Formal Wear. The happy couple-to-be can even say "I do" in the on premise Water Wall or Campanile Chapel. There is even a scheduled 30-minute rehearsal provided to prepare for your special day. After the wedding ceremony and reception, The Bell Tower on 34th is one of the exclusive wedding venues in Houston that provides a shuttle service to nearby hotels.
From wedding ceremony to wedding reception, The Bell Tower on 34th will not only delight you, but it will exceed your expectations. It's one of the wedding venues in Houston that will give both you and your wedding guests spectacular long-lasting memories that will be forever cherished. If you're seeking a wedding venue that is the perfect mélange of value and service, be sure to contact The Bell Tower on 34th.