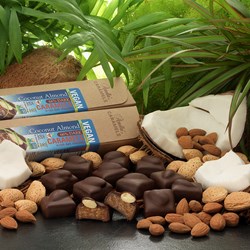 The Best Vegan Caramel Ever
Los Angeles, CA (PRWEB) October 22, 2013
Amella Caramels has added the new Vegan Coconut Almond Caramels to their line. Amella consistently wins kudos for the luxurious texture and decadent flavor of their handmade caramels and caramel bars made with raw blue weber agave nectar and premium organic ingredients.
The new Vegan Coconut Almond Caramels are a response to strong customer demand, following their Vegan Gray Sea Salt Caramels which have been winning praise for their uncompromising commitment to taste and texture for vegan palates.
For the Vegan Coconut Almond Caramels, Amella stirs just the right amount of organic coconut flakes into the caramel base to enhance the texture and coconut flavor. Topped with a lightly roasted organic California almond and then enrobed in organic 66% cocoa dark chocolate, each morsel is a complex and complete flavor experience.
"The basis for most caramels is dairy and sugar, so the process to develop this vegan caramel was very laborious," explains co-founder Elena Kiamileva. "It took us a year to create a superb caramel base that contains no sugar and no dairy products."
Equal to the amount of care and artistry that goes into the flavor of the vegan caramels is the concern for other health issues. In addition to vegan certification, the Vegan Coconut Almond Caramels are certified by the Non-GMO Project (the only caramel in the US to have that certification). They are also kosher certified, gluten-free certified by GIG, contain no refined sugars, and are made with all organic ingredients.
The packaging is consistent with these values, using Earth Friendly completely biodegradable boxes that are all-natural and keep the caramels fresh.
Amella Caramels is the winner of numerous awards, including Golds at the Chocolate Salons in San Francisco and Los Angeles and the Top Luxury Caramel Awards, as well as winning Best Caramel in North America at the Taste Awards.
Prior to founding Amella Caramels, Emir and Elena Kiamilev graduated from Ecole Chocolat's Professional Chocolatier Program, where they learned the basics of candy making, followed by study at the Valhrona Chocolate Factory in Paris and priceless lessons in artisan chocolates from Valhrona chef, Philippe Givre.