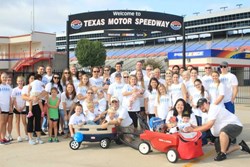 Building Confidence, Achieving Success
(PRWEB) October 22, 2013
On October 12, 2013 Teach Me LLC's therapists, other team members and their families joined forces with hundreds of others autism advocates at the Texas Motor Speedway in Fort Worth for the 2013 Walk Now for Autism Speaks.
As one of the top five fundraisers for the Dallas Walk Now for Autism Speaks, Teach Me shares and supports Autism Speaks's vision: to change the future for all that struggle with autism spectrum disorders. Autism Spectrum Disorder, a neurodevelopment disorder, has grown steadily over the last four decades. According to Regina Crone, PhD, Founder and Executive Director of Teach Me and Therapy and Beyond, "The need for increased funding for autism research has never been greater."
Autism Speaks is dedicated to funding global research in the causes, prevention, treatment and cure for autism. Their annual fundraiser walk started in 2006. Last year alone the DFW walk raised over $560,000, with combined walks raising more than 28.5 million dollars nationwide.
Dr. Crone also stated, "We appreciate Autism Speaks and love participating in the walk every year. We are honored to be the Community Partners sponsor this year. It's a great opportunity to celebrate awareness with our families and support the Autism Community."
Teach Me LLC and Therapy and Beyond team members are committed to raise awareness and continue the fight against autism. It is their goal to offer cutting edge services for those with Autism from Applied Behavior Analysis therapy, to speech therapy to counseling, to social therapy groups for adolescents and adults. Their proactive strategies are geared to unlock the potential of each individual affected by autism.
Teach Me and their sister company Therapy and Beyond are located in Dallas, Houston, Tulsa and Denver. Their team of professionals provide high quality therapy including ABA, Speech and Counseling to address the needs of individuals with Autism and related disorders. To contact them, call 469.892.7500 or visit their website: http://www.myteachme.com, http://www.mytherapyandbeyond.com
Regina Crone, PhD, BCBA-D, Founder and Executive Director for Teach Me and Therapy and Beyond. She is a featured speaker for Autism Professional Resource Group, Professional Representative for TxABA DFW Area Autism SIG, Vice President of POAC-TX, and on the advisory committee for FEAT-NT. She is a full member of ABAI, TxABA, TxABA DFW Autism SIG and APBA.