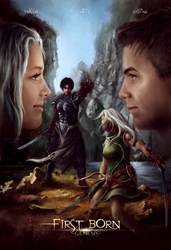 'Genesis' also acts as a short prequel to the film series currently in development at CRO Productions
(PRWEB UK) 23 October 2013
CRO Productions are proud to announce the release of the fantasy-love story 'First Born: Genesis' in 2014, and its teaser trailer, available today.
The first glimpse into the fantasy world of the 'First Born' franchise, Genesis tells the story of a young Titan named Selena and her love of the mortal, Kyle as they face the challenge of breaking away from the First Born's system of control over them and the world. Headstrong and determined, Selena faces off against the embodiment of darkness itself as she does whatever is necessary for her to be with the one she loves.
This fantasy-adventure-love story 'First Born: Genesis' is helmed by co-directors and writers Patrick Watremez and Govind Chandran for Oxford-based, CRO Productions. Lily Travers portrays the determined Selena and Alex Mills stars as Kyle alongside Luke Osbond as Erebus and featuring the voice of Fraser Patrick as Aether.
'Genesis' also acts as a short prequel to the film series currently in development at CRO Productions. Alongside this the company are also developing a graphic novel series that takes place within the world of First Born, further developing the mythology and lore of the fantasy world.
Released today by CRO Productions is a teaser trailer for First Born: Genesis.
For the latest news from CRO Productions visit:
https://www.facebook.com/Croproductionsuk