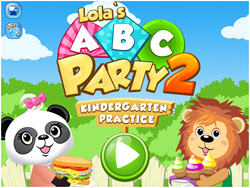 (PRWEB) October 23, 2013
Lola Panda, one of the most popular kids' games characters, is back in the brand new phonetic spelling game, Lola's ABC Party 2. This has been developed from the original Lola ABC Party game, which was done for preschoolers. The brand new game targets those children who already might know a few letters, but don't read and write much yet. The game is twice as big and twice the fun compared with the original Lola's ABC Party game.
Lola's ABC Party 2: Kindergarten Practice takes Lola and her friends to a picnic. Children learn everything from short vowels to spelling over 160 words. And while learning they have lots of fun, also since they can enhance their own party with sandwiches, ice cream and even kite decoration. Time to join the party!
Lola Panda has become a hugely popular educational game character. Lola Panda® games have been downloaded millions of times this year. Children love games and there were already over 4 million Lola Panda game sessions in September 2013.
Lola's ABC Party 2 is available in Apple iTunes and Google Play as a premium version. The game costs $1.99/1.79€. Let's start playing – it's time to party again!
Lola's ABC Party 2 (Android) price $1.99
Lola's ABC Party 2 (iPad & iPhone) price $1.99
YouTube Promotional Video
Lola's ABC Party 2 homepage
Media Kit
Media contacts, promotional code requests:
tarja heinonen at beiz com
BeiZ, the inventor of the Lola Panda® series, is a game studio that concentrates on providing enjoyable educational solutions and non-violent games for children. BeiZ also assists its partners in publishing their games and mobile content. BeiZ has its headquarters in Finland as well as operations in China. Lola Panda® is a Community Trade Mark of BeiZ Ltd. All Rights Reserved.