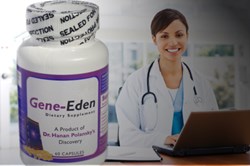 Can you imagine taking Acyclovir for a herpes infection, and then acting like you're a zombie from 'Night of the Living Dead?' We can't either. That's why we recommend safe and effective herpes remedies like Gene-Eden-VIR.– Mike Evans, polyDNA
Rochester, NY (PRWEB) October 23, 2013
Acyclovir can cause a neuropsychiatric (mental) condition called 'Walking Corpse Syndrome' or "Cotard's Syndrome.' This syndrome can cause a person to feel like they, or parts of their body, do not exist. In other words, these people believe they are dead. Therefore, some call this the 'Zombie Effect.' According to a new study, Acyclovir (a drug commonly used against herpes) can cause this condition in some patients (1). In contrast, Gene-Eden-VIR, a natural herpes remedy has no reported side effects. Thus, patients who use it will never feel like a zombie.
An article published on October 16th 2013 on newscientist.com quoted researchers from The Florey Institutes of Neuroscience and Mental Health in Australia, who described a strange effect of acyclovir. "One woman with renal failure began using acyclovir to treat shingles. She ran into a hospital screaming, says Hellden. After an hour of dialysis, she started to talk: she said the reason she was so anxious was that she had a strong feeling she was dead. After a few more hours of dialysis she said, 'I'm not quite sure whether I'm dead any more but I'm still feeling very strange.' Four hours later: 'I'm pretty sure I'm not dead any more but my left arm is definitely not mine.' Within 24 hours, the symptoms had disappeared (2)."
The newscientist.com article speculates that the cause of the 'Zombie Effect' is the CMMG chemical. "Blood analysis suggests an explanation. When someone takes acyclovir, it is broken down in the body before being removed via the kidneys. One of these breakdown products, CMMG (a main chemical ingredient of Acyclovir), is usually found at very low levels. But those who had symptoms of Cotard's had much higher levels (2)."
"Can you imagine taking Acyclovir (Zovirax) for a herpes infection, and then freaking out and acting like you're a zombie from 'Night of the Living Dead?' We can't either. That's why we recommend safe and effective herpes remedies like Gene-Eden-VIR." – Mike Evans, polyDNA
Acyclovir - also known by the brand name Zovirax - is a common drug used to treat cold sores and other herpes infections. Besides 'Walking Corpse Syndrome,' Drugs.com mentions other side effects: "abdominal or stomach pain, decreased frequency of urination or amount of urine, increased thirst, loss of appetite, nausea or vomiting, unusual tiredness or weakness, black tarry stools, blood in urine or stools, chills, fever, or sore throat, confusion, convulsions (seizures), hallucinations (seeing, hearing, or feeling things that are not there), hives, pinpoint red spots on skin, trembling, and unusual bleeding or bruising (3)."
A study published on August 12, 2013 in the peer reviewed, medical journal Pharmacology & Pharmacy, in a special edition on Advances in Antiviral Drugs, showed that Gene-Eden-VIR reduced herpes symptoms (4). Study authors wrote that, "Individuals infected with the herpes…reported a safe decrease in their symptoms following treatment with Gene-Eden-VIR (4)." The study authors also wrote that, "We observed a statistically significant decrease in the severity, duration, and frequency of symptoms (4)."
To learn more about Gene-Eden-VIR and herpes, visit http://www.gene-eden-kill-virus.com. All orders of Gene-Eden-VIR are completely confidential, and no information is shared or sold to any third party. Privacy is assured.
###
References:
(1) http://www.sciencedirect.com/science/article/pii/S0022510X13025665
(2) http://www.newscientist.com/article/mg22029392.600-back-from-the-dead-reversing-walking-corpse-syndrome.html#.UmO-znBkM_c
(3) http://www.drugs.com/sfx/acyclovir-side-effects.html
(4) http://www.scirp.org/journal/PaperInformation.aspx?PaperID=36101
polyDNA is a biotechnology company that develops dietary supplements using the unique scientific method developed by Dr. Hanan Polansky, which is based on Computer Intuition.
In addition to his unique scientific method, Dr. Polansky published the highly acclaimed scientific discovery, called Microcompetition with Foreign DNA. The discovery explains how foreign DNA fragments, and specifically, DNA of latent viruses, cause most major diseases.
polyDNA developed Gene-Eden-VIR, an antiviral natural remedy that helps the immune system kill latent viruses.