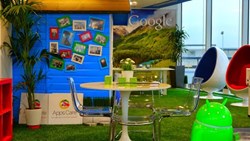 It's great to see our partners embracing the Google brand and our values within their company. - David Keene, Head of Marketing, Google Enterprise
London, UK (PRWEB UK) 31 October 2013
Netpremacy Global Services, Google Premier Enterprise Partner and global provider of cloud, security and network solutions announced today the opening of its new EMEA headquarters in Leeds, UK.
Netpremacy has been established for more than 15 years and, due to continued growth, has recently expanded its EMEA headquarters. The new facilities provide a far more suitable and expansive environment for delivering world-class technical support and change management to Netpremacy's worldwide base of more than 2500 customers, as well as more ideal surroundings to provide the infrastructure to deliver exceptional solution support.
Michael Carter, CEO at Netpremacy Global Services commented, "As a direct result of the continued demand for public cloud services, our company continues to grow and expand into new markets."
This office expansion comes perfectly timed, following the announcement earlier this year of a number of household names that have 'Gone Google' through AppsCare® (Netpremacy's Google Enterprise division). Their portfolio of 2500 customers includes JUST EAT, Games Workshop, Future Publishing and Nandos. "We're looking forward to the launch of a number of new products and services (to be announced later this year) and to bringing new talent on board to facilitate the continued success of the organisation."
The new offices, which were inspired by Google's cutting edge design, offers a quirky take on the traditional office. Carter further commented, "I believe that having a fun workplace allows people to work creatively and having a collaborative office space enables us to better serve our customers by facilitating a free flow of information and communication with employees across departments."
David Keene, Head of Marketing, Google Enterprise, commented: "It's great to see our partners embracing the Google brand and our values within their company, it provides a holistic image and experience to our customers."
This investment, which is recorded at close to $250,000 shows a deep commitment to providing world class support to global organisations moving to the cloud, a continuing trend affirmed by Gartner, IDC and Forrester.
About Netpremacy
Netpremacy was set up in 1998 to solve complex business problems using the most innovative technologies available. Today, over 2500 customers in over 30 countries around the globe utilise their services. Netpremacy provide fully Google and CCIE certified engineers in all fields, who build, maintain and secure some the most advanced global deployments. AppsCare®, Netpremacy's Google Enterprise division provides explicit attention to detail on the back-end, which is complemented by their commitment to front-end users. A small number of their customers include: Advertising Standards Authority, Salvation Army, Institute of Chartered Accounts, Secom, KBC Bank, Lincoln City Council, Just Eat, and Conde Nast Publications.