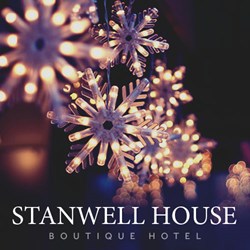 The two day Christmas package is such a treat and gives you the opportunity to just enjoy the season and relax with loved ones while we do all the hard work.
(PRWEB UK) 23 October 2013
Stanwell House is the exquisite boutique Lymington Hotel privately owned in the beautiful Georgian town of Lymington Hampshire. Christmas is celebrated throughout the month of December with special festive lunches and dinner available as well as their gorgeous Yule tide afternoon tea which can be enjoyed in the stunning hotel conservatory with or without a champagne accompaniment. 
Christmas is one of the most memorable and special times of the year, and it goes without saying that Stanwell House Hotel make it their mission to provide the most inviting and relaxing environment to make it a really happy holiday. So what does Stanwell House Hotel do to create such a perfectly festive ambience?
Take the little matter of the canape and champagne reception on Christmas Eve for instance, most households would be frantically last minute gift wrapping but Stanwell guests can sink into a club chair and sip, sing and laugh contently while fairy lights glitter around them. It's not hard to see why flying the nest at Christmastide is becoming ever more popular and Stanwell's award winning restaurant is another reason why. Christmas Eve dinner, prepared by the Head chef and his fantastic team is served by delightful staff who are all genuinely pleased to be there, the buzz of excited faces is contagious.
Midnight Mass is then not obligatory but is just a short walk up the festively lit up high street (so worth a wander anyway) and the 13th Century St Thomas church is a wonderful building to admire on Christmas eve. Before guests 'turn in' for the night, mulled wine and roasted chestnuts are available in true festive spirit. They say looks aren't everything but the snug lighting and modestly decorated Christmas tree knocks socks off local competition, in fact the decorations and lighting are so humble and unpretentious it proves that less can often be more. For those who don't want to be shrouded in tinsel, Stanwell House hotel is a wonderfully understated festive treat.
Victoria Crowe, owner of Stanwell house says, 'I really look forward to greeting Christmas guests, sharing the excitement and seeing everyone enjoy the atmosphere. Christmas is a magical time, that's why we do everything we can to deliver the most exceptional Christmas breaks available.'
That's Christmas Eve covered, now for the big day itself. Guests are invited to indulge in a delicious New Forest breakfast (might as well start as you mean to go on). The hopefully crisp and bright morning can be spent at ones leisure, perhaps with a mid-morning stroll to the famous historical town quay or for the more adventurous, a deep forest walk 5 minutes down the road. From midday, hunger pangs may begin to strike so to prepare for lunch, relax and unwind with a glass of Bucks Fizz or perhaps a cup of tea on return from a chilly stroll. The traditional Christmas dinner is served with all the trimmings, it's delicious with a capital 'D' and if there's enough room, the selection of deserts is scrumptious too. This memorable day is finished with a romantic candlelit gourmet buffet dinner, all served in the AA 2 rosette New Forest Restaurant and guests can continue to exchange gifts and enjoy mulled wine late into the evening.
Boxing day can begin at one's own pace with either a traditional or healthy New Forest breakfast before a fond farewell awaits at reception (unless an extended festive break is booked in which case the festivities are far from over) A two night package starts from just £405.00 per person.
Marianne, Reservations manager, says, 'The two day Christmas package is such a treat and gives you the opportunity to just enjoy the season and relax with loved ones while we do all the hard work.'
The Lymington boutique hotel offers a relaxing and tranquil setting for all occasions with attentive service and a wealth of personal touches ensuring all guests have a wonderful and memorable break. For more information on Christmas breaks, special offers and forthcoming events visit http://www.stanwellhouse.com