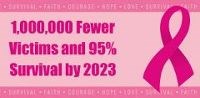 Washington, DC (PRWEB) October 24, 2013
The incidence of breast cancer in the United States is increasing, and so is the cost of treating the disease. To address these concerns, Steven Zecola has published "A Call to Action on Breast Cancer: How Management Science Can Improve Performance Outcomes."
From an organizational perspective, Zecola finds that virtually every rule of management science is violated in the health care industry's approach to breast cancer. First, no one "owns" the problem. Second, the "problem" is not well defined. Third, there are no challenging yet realistic objectives for the performance outcomes that are shared by the health care industry. The list goes on.
To identify a better way to address this national tragedy, Zecola provides a detailed analysis of the situation, including a description of the current treatments, on-going research, emerging trends and the existing industry and government practices as they relate to breast cancer.
The analysis highlights the areas that are ripe for change in order to produce a meaningful improvement in the performance outcomes and the cost of treating breast cancer.
For example, the only way to meaningfully impact the survival rate of breast cancer victims is to reduce or delay the incidence of metastasis, or to improve the survival rate of metastatic patients. Yet only a small fraction of breast cancer research dollars is targeted to these efforts.
To address the current deficiencies, Zecola provides a detailed set of recommendations for the organizational structure and specific plans needed for each type of breast cancer.
The article is available at http://www.ACallToActionOnBreastCancer.com. Comments and discussion are encouraged on the website.
Breast cancer victims deserve the health care industry to adhere to a set of shared objectives for their disease – and for everybody to share a commitment and plan to meet those objectives.