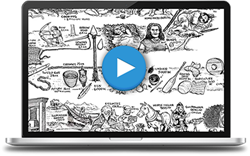 Narrated by Stephen Fry - the animation presents cloud computing as the utility to enable businesses
(PRWEB UK) 22 October 2013
Humans have always been inspired by the ability that technology has to change our lives.
From the Sumerian's invention of the abacus in 2,700BC as a way of making arithmetic faster, easier and less error prone, right through to the modern day with Tim Berners-Lee pioneering the World Wide Web. As we have grown, so has our relationship with technology.
Databarracks, with Cognitive Media, has captured this relationship in an original animation designed to take the viewer on a journey through some of the most historic landmarks in mankind's evolution with technology. It concludes that we are currently experiencing the biggest change to computer thinking since the Industrial Revolution with the advent of cloud computing.
Narrated by one of the most distinctive voices across the globe - actor, playwright, and overall national treasure Stephen Fry - the animation presents cloud computing as the utility to enable businesses to exactly align technology expenditure with business requirements.
Peter Groucutt, Managing Director of Databarracks believes that the final animation explains why cloud computing is such a paradigm shift: "We wanted to put technology's current revolution in perspective in the history of computing. There is a long list of changes in technology from some of the world's most brilliant minds that have paved the way to where we are today. At the same time, the story of cloud computing is about utility, so we want to show the roots and the history of electricity and water as utilities - and the huge change that had on us".
"Cloud computing, as quite rightly highlighted in the animation, has the potential to do for today's businesses what the Industrial Revolution did for mass production. We live in a world where we now have the ability to scale memory, processing and storage at the touch of a button while only ever paying for the amount we use. We really are at the dawn of an exciting era: the era of utility computing."
Please see the link to the animation here