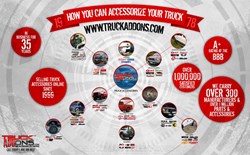 In Business for 35 Years, Online since 1999, Over ONE Million Satisfied Customers, A+ Rating at the BBB.
(PRWEB) October 23, 2013
Trail Blazers has been in business for 35 years, it was founded in 1978, and has operated the website TruckAddons.com since 1999. They have been selling Truck Accessories for 14 years online now and their website is one of the largest and longest running Truck Accessories websites on the Internet today. TruckAddons.com carries over 300 manufacturers and over one million parts & accessories. Over the course of 35 years they have over one million satisfied customers and are proud of their A+ Rating at the Better Business Bureau.
They created this infographic to show some of the options available at TruckAddons.com. When it comes to shopping for truck accessories, the process can be daunting, this graphic highlights some of the different product categories a customer may choose when they type truck accessories into Google and land on their website. According to Foresight Research, owners spend about $1,000 on truck accessories to customize their vehicles within the first three months of purchase. Truckaddons.com specializes in the following Truck Accessories: Tonneau Covers, Winches, Lift Kits, Off Road Wheels, Off Road Tires, Nerf Bars, Running Boards, Grille Guards, Floor Liners and much more. Their infographic lists these product categories as well as some of the major manufacturers associated with each product line.
Here is a written breakdown of Product Categories and Manufacturers:
Tonneau Covers – Extang, Undercover, Truxedo, Bak Industries, American Tonneau
Winches – Warn, Engo, Mile Marker, T-Max
Lift Kits – Rough Country, Skyjacker, Tuff Country, Air Lift, Rancho
Wheels – Ballistic, BMF, RBP, American Racing
Power Tuners/Programmers – Hypertech, Edge Products, Bully Dog, Diablosport, Superchips
Hitches – Curt, B&W, Draw-Tite
Grille Guards – Westin, Onki, Go Industries, DeeZee, Aries Automotive
Running Boards – Westin, DeeZee, Onki, Rampage, Bak Industries, Bestop
Fender Flares – Bushwacker, Warn, Stampede, Rugged Ridge, Bestop
Bumpers – RBP, Fab Fours, ARB, Rampage, Westin, Warn
Floor Liners – Weather Tech, Husky Liners, Rugged Ridge
Lighting – PIAA, Recon, Putco, Hella, Anzo, KC
Nerf Bars – Westin, Bestop, Tuff-Bar, AMP, Aries Automotive, Go Rhino
A Little History About Trail Blazers and TruckAddons.com:
Barry Sanders got his first taste of off-roading during a family vacation in Pikeville back in the 1970's. He fell in love with the mountains and spent a few thousand dollars customizing his Jeep to tackle the hills and trails. In 1978 he opened the first Trail Blazers auto and truck accessory store in Pikeville, Kentucky. In the first year of business the business did over $500,000 and hasn't looked back since. Mr. Sanders opened the Lexington, Kentucky store in 1982 and has expanded it from 5,000 to 14,000 square feet. The business continued to grow and the decision was made to take the business online in 1999 with the development of Truckaddons.com. As one of the first truck accessories websites online taking advantage of this new medium, the company thrived and grew exponentially.
Why buy from TruckAddons.com?
They buy direct from the manufacturers, so they are able to offer the best prices online. Feel free to give them a call at 1-800-388-8637, or stop by their retail store located at 1098 E. New Circle Road in Lexington, Kentucky and browse around. You'll always find the best prices, service and support. Guaranteed!