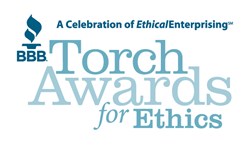 These companies demonstrated superior character on a daily basis with their customers, employees, suppliers, industry peers and communities in which they do business.
Columbus, Ohio (PRWEB) October 23, 2013
Better Business Bureau (BBB) Center for Character Ethics® today celebrated this year's recipients of its 18th annual Torch Awards for Ethics™. The recipients were honored at the Torch Award Gala Luncheon, held at the Hyatt Regency Ballroom in downtown Columbus.
Four businesses were selected as recipients of the prestigious 2013 Torch Award for Ethics.
Recipients of the 2013 Torch Award include: Franklin International, Varo Engineers Inc., Switchbox Inc., and Buckeye Appraising Inc.
"While Central Ohio has proven to be home to so many great companies operating with high character, these four Torch Award for Ethics recipients clearly demonstrated with their entries superior character on a daily basis, and consistently exceed marketplace standards for ethics in their relationships with customers, employees, suppliers, industry peers and the communities in which they do business," said Kip Morse, President & CEO of the Central Ohio BBB and its Center for Character Ethics.
Ten Students of Integrity were also recognized from high schools throughout central Ohio.
Founded in 1994, the national award-winning "educate & recognize" program is the premier public recognition of organizations that intentionally pursue the six TRUST! Principles of EthicalEnterprising℠. The award embodies the BBB Center's mission of advancing marketplace trust.
About BBB's Center for Character Ethics
The Better Business Bureau of Central Ohio and BBB's Center for Character Ethics are business supported, free-enterprise advancing non-profit organizations. Our mission is to accredit, monitor, elevate and celebrate the commitment that for-profit and non-profit enterprises make to the highest standards in leadership character ethics and ethical enterprising. We help fortify trust-worthy enterprises and measure success by how well both producers and consumers flourish in Central Ohio.
About the BBB
BBB of Central Ohio serves Columbus and 21 surrounding counties as a leader in advancing marketplace trust by encouraging best practices, celebrating role models, and denouncing substandard behavior. BBB sees trust as functions of respect, ethics, intent, delivering results and addressing concerns. Businesses and charities that earn BBB Accreditation have agreed to live up to our high standards and principals for trust. BBBs provide free and easily accessible Business Reviews, Wise Giving Reports on charities, educational information, objective advice, and dispute resolution of marketplace complaints. The first BBB was founded in 1912, and today a network of 119 local BBBs serve communities across the U.S. and Canada, evaluating and monitoring more than 4 million businesses and charities. Please visit http://www.bbb.org for more information about BBB.