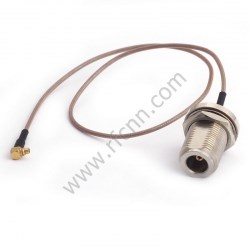 (PRWEB) October 26, 2013
Yesterday, a well-known assembly wholesaler, RFcnn.com, launched a promotion of its top quality of MMCX cable assemblies. They are now available at discounted prices, up to 30% off. According to the CEO of the company, the promotion will be valid for two weeks.
"We are excited to launch such a promotion. This time, we want to meet the great demand on nice Cable Assemblies in the global market. Additionally, a lot of clients think us as a reliable company in the industry and have supported us for many years, so we want to show our gratitude to them by launching the promotion. Please visit our online shop and view our newest MMCX Cable Assemblies," said the CEO.
As one of the leaders in the industry, RFcnn.com promises to provide great assemblies to clients from around the world. RFcnn.com is an experienced company in the industry. It has been specializing in various kinds of cable assemblies for years.
RFcnn.com is a famous online supplier. Besides Cable Assemblies, it offers a large selection of connectors like SMA RF connectors, SMB RF connectors, SSMB RF connectors, N RF connectors, Mini Balun IDC connectors, SMC RF connectors and many others.
About RFcnn.com
RFcnn.com is an online store of Zhenjiang Fourstar Electronics Co. LTD, which is a China based company that intends to provide customers top quality products at the lowest possible prices. Clients can try the company's products through sample orders with a long-term contract. Most the customers will come back soon after their first deals.
More details about the company's high quality connectors can be found at: http://www.rfcnn.com/N-Female-to-MMCX-Male-Cable-Assembly-Jumper-104.html.