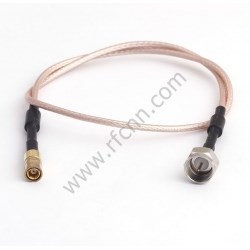 (PRWEB) October 27, 2013
Recently, RFcnn.com, a famous supplier of various kinds of cable assemblies, has launched an MMCX cable assembly promotion for the French market. That is to say, all MMCX cable assemblies offered by the company are now available at discounted prices, up to 31% off. The promotion is valid until November 16, 2013.
"We are glad to launch the promotion. Now, customers from every part of the world can seize the opportunity to enjoy the big discounts. MMCX Cable Assemblies are so practical that they can be applied in many industries. There is a great demand for them in the global market. That's why we decided to launch this MMCX cable assembly promotion," the CEO of the company says.
According to the CEO, SMA cable assemblies include many standard and custom products that use flexible, semirigid cable or formable. The new range of SMA cable assemblies come in over 12 unique cables and connector combinations. In addition, RFcnn.com provides many other configurations on its website: centimeters or inches, non-RoHS or RoHS right angle or straight connectors, standard or custom length, and so on.
RFcnn.com is a distinguished MMCX cable assembly company in the world. It has a rich experience in the industry. All products from the company are promised to be excellent.
About RFcnn.com
RFcnn.com is an online company of Zhenjiang Fourstar Electronics Co. LTD, which is a China based company that intends to offer customers high quality products at the lowest possible prices. Customers can try the company's products through sample orders with a long-term contract. Most the customers will come back soon after their first deals.
More details about the company's high quality connectors can be found at http://www.rfcnn.com/Cable-assembly.html.