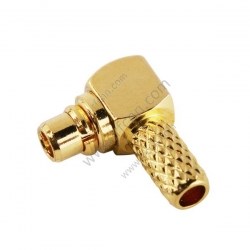 (PRWEB) October 29, 2013
Recently, RFcnn.com, the distinguished MMCX coax manufacturer and retailer, has announced its new range of MMCX coaxes. Now, the company has decided to launch a promotion of all the newly released MMCX coaxes. All items are offered at discounts, up to 32% off. The promotion will end on November 9, 2013.
RFcnn.com has an area of 30 hectares with the existing building of 12,000 square meters. The aim of the company is to provide clients useful and convenient products, such as MMCX Adapter, MMCX Cables, MMCX Cable Assemblies, MMCX Coaxes, MMCX Coax Connectors, MMCX RF Cables and so on.
"We are proud to release our new range of MMCX Coaxes and launch a big promotion of them. We want to provide clients worldwide with quality products at compatible prices. All of our products are reasonably priced. At our website, we also offer quick response and rapid delivery." The marketing specialist of the company says.
The aim of RFcnn.com is to help clients get high quality low-priced products. It often considerably reduces the prices of its products. It is really a reliable China based company and it is now one of the popular suppliers in the global market.
About RFcnn.com
RFcnn.com is an online store of Zhenjiang Fourstar Electronics Co. LTD, which is a China based company that intends to provide customers high quality products at the lowest possible prices. Customers can try the company's products through sample orders with a long-term contract. Most the customers will come back soon after their first deals.
More details about the company's high quality connectors can be found at: http://www.rfcnn.com/MMCX-Male-Right-Angle-Crimp-For-RG316-RF-Connector-433.html.