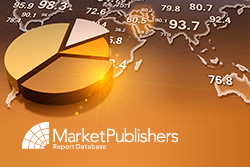 London, UK (PRWEB) October 22, 2013
Nowadays, various aerial, land and space C4ISR systems are used by governments across the globe to strengthen their countries' security. These systems assist in monitoring the territories in dispute and national borders without having to be present at the location physically as well as enable real-time data sharing. The global demand for C2/C4ISR systems is mainly driven by the increasing need for effective information gathering and its subsequent sharing coupled with the fast-paced evolution of diverse technologies with regards to C2/C4ISR systems.
Worldwide C2/C4ISR spending is poised for significant growth in the upcoming years due to the importance of these systems in modern warfare. The market growth is expected to be spurred by an increasing desire of NATO and the UE to expand their international presence. Italy, Germany, the UK and France are likely to increase their investments in various communications programmes in the next ten years, thus driving the growth of the strategic communications sector of the European C2/C4ISR market.
Insightful research report "The Global C2/C4ISR Market 2013-2023" worked out by Strategic Defence Intelligence (SDI) has been recently published by Market Publishers Ltd.
Report Details:
Title: The Global C2/C4ISR Market 2013-2023
Published: September, 2013
Pages: 237
Price: US$ 4,800.00
http://marketpublishers.com/report/industry/other_industries/global_c2c4isr_market_20112021.html
The report provides a comprehensive analysis of the global C2/C4ISR market. It characterises the historical and actual market behaviour, examines the major factors driving and restraining the market growth, as well as outlines key market challenges and opportunities. The research study delves into the competitive landscape and reviews key market participants, traces the recent news and developments in the sector, and also benchmarks the industry against key global markets. In addition, the report provides a detailed forecast for the market value of the C2/C4ISR industry to 2023.
Report Scope:

Insightful analysis of the global C2/C4ISR market.
Historical and current data on the industry performance.
Examination of the major market drivers and restraints.
Discussion of key market opportunities and challenges.
Insights into the competitive landscape and data on the key market participants.
Review of the recent industry developments as well as prevailing trends.
Benchmarking of the industry against key global markets.
Overview of the major C2/C4ISR programmes.
Market size forecast through 2023.
More in-demand research reports by the publisher can be found at SDI page.