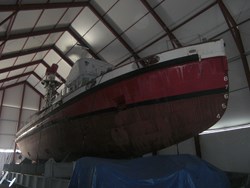 San Padro, California (PRWEB) October 22, 2013
Boomerang Buildings, provider of temporary steel buildings for construction sites, industrial facilities, and commercial applications, has announced it is providing the towering structure that protects a historic fireboat at the Port of Los Angeles.
The Ralph J. Scott—known as LAFD Fireboat 2—is the longest-serving apparatus in Los Angeles Fire Department history, having been used for 78 years. Recognized by the U.S. Department of Interior, National Park Service National Maritime Initiative as a National Historic Landmark, the ship is also listed on the National Register of Historic Places.
"The Ralph J. Scott is a true example of American engineering and craftsmanship," said Beth Wilson, marketing manager of Boomerang Buildings. "It's fitting that Boomerang, which offers the quality of a permanent structure with the convenience of a temporary one, has been selected to protect this magnificent ship until the museum and restoration of the boat are complete."
The fireboat currently rests on San Pedro's waterfront as funds are raised for a museum to honor the vessel. While the Fireboat undergoes restoration, both the ship and crew working on it require protection from the elements. Boomerang's weatherproof temporary buildings are rated for winds up to 105 miles per hour and snow loads of up to 50 pounds per square foot, but modifications can be made for the buildings to withstand harsher conditions.
Made from recycled steel and designed to be deconstructed and repurposed, Boomerang buildings are extremely cost effective. Because they are a temporary leased solution, Boomerang buildings are typically classified as an operating expense rather than a long-term capital expense. In addition, Boomerang's structures can be deployed and installed in as little as 21 days within the continental United States, saving organizations both time and money.
About Boomerang Buildings
Boomerang Buildings manufactures, deploys, and installs sustainable, prefabricated steel buildings to meet the needs of construction sites, industrial facilities, and commercial applications. A sustainable space option, Boomerang Buildings are energy efficient and designed to be deconstructed and repurposed multiple times. For more information about Boomerang Buildings, visit http://www.boomerangbuildings.com or call 800-918-5795.
Media Contact:
Melissa Currier
Calypso Communications
603-431-0816
mcurrier(at)calypsocom(dot)com