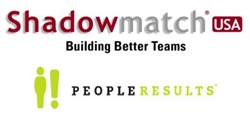 Influence is crucial to generating support for one's ideas throughout the organization - up, down and across - regardless of one's career level.
Dallas, Texas (PRWEB) October 24, 2013
The latest free webinar from Shadowmatch will be held Wednesday, October 30 and features Kirsten Jordan and Heather Nelson, partners at PeopleResults, a national management consulting firm. These business leaders will provide practical suggestions on how managers, team leaders and HR professionals can influence their team's relationship with senior leaders.
Additional discussion points will include:

Why managing up and managing across are as important as managing down
Ways to navigate corporate politics with integrity
Process and tips for influencing key people who don't report to you
Participants can join the webinar by registering in advance online at https://www4.gotomeeting.com/register/460719663.
The free webinar presented by Shadowmatch provides leaders, managers and HR professionals practical, positive solutions to better align teams to ultimately drive better business results.
WHAT: Shadowmatch Webinar: "Transition Tactical Ghouls into Strategic Superheroes"
WHEN: Wednesday, October 30, 11 a.m. CST - Space is limited
WHERE: Admission to this online webinar is free, but please register at least one hour before the start of the live webinar to receive an invitation. Click here to register or visit:
https://www4.gotomeeting.com/register/460719663.
WHO: Kirsten Jordan and Heather Nelson, partners at PeopleResults
About PeopleResults
Since 2004, Irving, Texas-based PeopleResults has been working with client partners to harmonize people and organizations with business strategy through seasoned expertise, steadfast business acumen topped with fresh insights and cutting-edge new and social media strategies. To learn more about PeopleResults, please visit http://www.people-results.com, follow our news on Twitter @People_Results or find us on Facebook at http://www.Facebook.com/PeopleResults.
About ShadowmatchUSA
Shadowmatch USA, based in Dallas and the exclusive provider and administrator of the Shadowmatch behavioral benchmarking tool in the U.S.A., is committed to positively impacting individuals and teams to accelerate business performance. The Shadowmatch system and services identify and predict specific employee habits and behaviors responsible for team's success. Armed with these powerful insights, business leaders can better build, manage, develop and deploy their teams and individual employees. Follow our news on Twitter @ShadowmatchUSA or like us on Facebook.