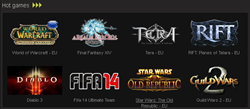 (PRWEB) October 23, 2013
Through the third-quarter sales report from http://www.mmoxe.co.uk , which is one of the most famous PC game virtual trading service provider, recently revealed that PC game product service revenue fell sharply this year. However, its XBOX, PS3 business is getting a huge development compared with PC game service sales. MMOXE.CO.UK is not the only seller heads to multiple platforms. RMT (Real Money Trade) gold sellers are prepared to broaden their new territory into Consoles.
Console Generation is Coming
People are arguing that the Xbox 360 and the PS3 would mark the end of the PC as a gaming platform. According to MMOXE.CO.UK report said that PC game virtual trade income has declined by 37.3% compared with last year. However, the Xbox and PS3 service sales are unexpectedly good.
"We have been in the PC gaming field for over 8 years, but this first try in the Xbox and PS3 field was absolutely right," said William, "We accidentally started FIFA13 coins business early this year, which contains Xbox 360, PS3 and iPhone/iPad besides PC platform. It is really an unexpected fact that PS3 and Xbox coin sale is so much better than PC coins. We believe that we are one of the first batch of FIFA coin sellers in the market, and have the advantage of huge customer base which leads to the success on Xbox and PS3 sale."
PC & Console Gaming Pros and Cons
From gamers research, PC gaming pros can be concluded as games are cheaper, better graphics, more choices on RPG and RTS games, Hardware / software issues can potentially be fixed yourself if needs be and more. However, the cons of PC gaming can be listed as hardware needs constant upgrading, game patching, sitting-on-chair which is less comfort, complicated setting, expensive on keeping your PC "high-end".
Compared to PC gaming, console gaming pros can be concluded as convenient, easy on console setting up and playing, local multiplayer and more joy for social gaming, less game patching, limit on updating the console and bigger screen on TV. Of course, it is easy for us to understand the how fast the growing console gamers are. Here are also some cons against console gaming. Graphically inferior to high-spec PCs, restrict controls, no MMORPGs or less playable, expensive games, unfixable hardware issues and you may list more of it.
Overview of the Console Services
As we noticed that http://www.MMOXE.co.uk is supplying in-game coins and cd keys for some console games. "After the expected the release of masterpiece FIFA14 this September, the console service has brought our business to a new height. "said William. "We are also expecting to broaden our business to more console games." Besides mmoxe.co.uk, sites like http://www.safeffxivgil.com has also indicated the same target market on console games. We believe that RMT companies will enter into rivalry with each other in the future like in the PC gaming market in the past couple of years.