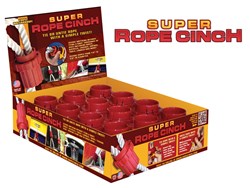 It's companies like The Shuuk that really make a difference for inventors.
Nashville, TN (PRWEB) October 22, 2013
Online retailer, TheShuuk.com, has been selling the Super Rope Cinch for just over two weeks, and is almost completely out of stock. The Shuuk caters to one-of-a-kind products, and focuses on new inventions that are not yet widely available in retail. In addition, The Shuuk showcases the inventor of each product in an attempt to connect the general public with exciting new products and their creator's.
The new Super Rope Cinch is quickly gaining distribution at both small and big box retail chains nationwide, but is enjoying a sales boost at The Shuuk thanks to their excellent job of marketing the device on their home page, along with the detailed coverage of the Super Rope Cinch's origin and inventor, Tim Bourke.
"It's companies like The Shuuk.com that really make a difference with inventor's. Without them, many products would never see the light of day," according to Super Rope Cinch inventor, Tim Bourke.
The Super Rope Cinch is a relatively new product in the hardware and homeware's markets manufactured by Just Right Products LLC that makes fastening items with a rope as easy as making a simple twist, literally. Using this revolutionary rope fastening device, the user does not have to know how to tie any sort of a knot. Nor, do they need to mess with untying wet or stuck knots. The device makes locking and unlocking multiple ropes from 1/8" to 5/8" in diameter a breeze, thanks to its innovative and simplistic design. Though not made specifically for children, the patented Super Rope Cinch does allow people of most any age to secure items with rope without any prior knowledge of tying and untying knots.
The Shuuk is one of many new boutique online retailers seeking their niche on the internet. By having unique products for sale and also sharing the backstory and origins of each item, they are quickly building an audience of followers, and of course, buyers. Using the Super Rope Cinch as an example of The Shuuk.com's marketing prowess, the page dedicated to the Super Rope Cinch featured additional images and instructions not found on many other hardware retailing websites. As a result, shopper's gain a better understanding of what they're buying, before they buy.
About Just Right Products LLC
Just Right Products LLC are creators and patent holders of the amazing Super Rope Cinch. This revolutionary rope fastener ensures that users do not need to tie or untie a knot when fastening most anything with 1/8" to 5/8" rope. With a simple twist, this device holds rope in-place and can secure hundreds of pounds worth of weight. Contact Tim Bourke at 248-343-4834 or via email at tim(at)jrpsllc(dot)com. You can also get more information through their websites at http://www.JustRightProductsLLC.com and http://www.SuperRopeCinch.com.