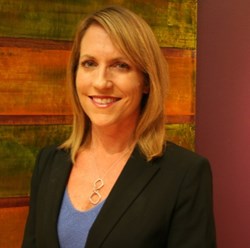 (PRWEB) October 24, 2013
On October 11, Kimberley ("Kim") Joan Roberts, Ph.D. was announced as the 10th Head of Garrison Forest School, effective July 1, 2014. An outstanding administrator, educator and innovator with a lifelong passion for educating and empowering girls, Kim brings a wealth of relevant experience and accomplishments to the role. She embodies the character and vision necessary to lead Garrison Forest into the next chapter of the school's 103-year history. Her intelligence, warmth and authenticity embrace the school's motto, Esse Quam Videri, "To Be Rather Than to Seem."
Kim is currently the Assistant Head of School and Director of Advancement at her alma mater Castilleja School, an all-girls school (grades 6-12) in Palo Alto, Calif. She returned to Castilleja in 2009 after a six-year tenure as the Director of Development at Saint Mark's School, a K-8 school in San Rafael, Calif. Kim obtained her B.A. from the University of California at Berkeley, M.A. from Mills College and Ph.D. from the University of Virginia—all in English Literature. During her nine years at U.Va. she taught literature as a graduate instructor in the English department and adjunct Assistant Professor in U.Va.'s Studies in Women and Gender Program. She founded and directed the Young Women Leaders Program, a mentoring program for adolescent girls from under-resourced communities, which today operates at 12 sites nationally and internationally. In addition, she was the Director of Diversity and Advocacy Programs for the University's Women's Center. At Castilleja, Kim is responsible for managing all advancement and fundraising efforts and driving strategic initiatives, interdisciplinary programs and external relations. She oversees the school's Partnership for 21st Century Assessment and has taught A.P. English Literature and Sophomore English at the school.
Kim's community leadership underscores her passion for girls' advocacy. She is board president at Now & Next Dance Mentoring Project in Washington, D.C., a board member for Palo Alto's Children's Health Council and Saint Mark's School and former chair of GirlSource in San Francisco. Kim founded the Halford Young Women Leaders Program and co-chaired the 2013 California Advancement Partnership for Schools Conference.
"I am deeply honored to be selected as the 10th Head of Garrison Forest School," Kim says. "My passion is girls' education, and my dream has been to be the head of a girls' school. Garrison Forest's program, in particular, excites me, as I will have the opportunity to work with Preschool students just embarking on their educational journeys and to create innovative programs for girls, Kindergarten through 12th grade. I immediately felt a palpable sense that Garrison Forest has the most wonderful school community I could imagine and knew right away that this was a school that lives its mission."
Kim and her family--Michael Laine, an attorney in project finance specializing in renewable energy and a native of Sussex County, Va., daughter Charley, who will enter the 5th grade at GFS, and son, Ellis, 7-- will live on campus as part of the GFS boarding community.
The Head of School Search Committee was led by co-chairs Lila Boyce Lohr '63 and Molly Mundy Hathaway '61.
Kim's appointment will signal the close of current Head of School Peter O'Neill's extraordinary tenure as Head of School since 1994. Peter will retire in June 2014 after 20 years at the helm of Garrison Forest. Under his leadership, Garrison Forest's enrollment and financial resources have grown significantly: the school welcomed its largest Upper School enrollment in its 100-year history, both the endowment and annual fund have increased dramatically since 1994, and the school has seen unprecedented campus-wide expansion. Academic initiatives under Peter's leadership include furthering experiential, collaborative learning opportunities for Garrison Forest students by partnering with The Johns Hopkins University through the Women In Science and Engineering (WISE) program; and the James Center, which brings together and expands the school's programs in WISE and STEM, community service, leadership development and financial literacy.