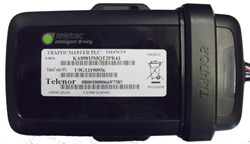 Ruggedized stolen vehicle tracking unit for plant & agricultural machinery
Cranfield, UK (PRWEB UK) 23 October 2013
Trafficmaster is at the forefront of providing real-time motoring solutions for both business and the customer. Its solutions include satellite navigation, Trackstar stolen vehicle tracking, fleet tracking and live traffic information. Together these can be combined to help ease the stress for drivers on today's roads.
Trackstar has just launched The TM470R - a real-time GPS tracking system designed for Stolen Vehicle Tracking of Plant and Agricultural Machinery. It features the latest GPS and GSM technology that give increased tracking sensitivity and fast wireless communication anywhere in the world! The TM470R provides a range of connectivity including digital inputs, relay outputs and serial connections including J1708 (RS485), J1939 (CAN) and RS232. The TM470R comes with an internal battery that provides more than 8 hours of continuous tracking data independent of vehicle power. Featuring a Telenor Sim, the TM47R also complies with IP66 and IP67.
"Key features that set the TM470R apart are that it is ruggedised with a toughened outer casing and therefore fit for purpose in the Plant and Agricultural machinery arena, as well as offering integrated European cover in over 50 countries," said Andrew Morrison, Director of Trackstar Sales.
Track down on Theft
Nearly 100,000 plant and agricultural machines are stolen a year in the UK. It is widely recognised that this costs both the owner and the insurance company time and money and is upsetting for everyone involved.
Tackling the rise in machinery theft
Trackstar, Trafficmaster's stolen vehicle tracking for plant and agricultural machinery solution helps combat the risk of machines being stolen following the theft of the keys.
If a machine is moved without the keys, a silent alert is sent to Trackstar's Secure Control Centre and tracking is immediately activated. The Control Centre liaises direct with police authorities across the UK and Europe, providing them with the speed, location and direction of the stolen vehicle.
Trackstar is fully accredited by Thatcham, the UK's insurance industry body, as a stolen vehicle tracking system. This means that the product meets set standards in its hardware, functionality and all of its processes. Not only that but Trackstar's installation engineers also have to be independently vetted and registered so that they are qualified to fit covert security systems.
Track Facts

Trackstar deploys the latest GPS Stolen Vehicle Tracking technology to immediately locate and track your vehicle, liaise with the police and recover your vehicle in the shortest possible time.
Trackstar pinpoints the location of a stolen vehicle every 20 seconds. If your vehicle is moved illegally we locate it using the Global Positioning System (GPS) in your Trackstar vehicle tracking unit. If your vehicle is moved without the use of its keys, the unit will notify us and we will contact you immediately.
Trackstar is the only Jaguar, Land Rover, Range Rover and BMW approved Stolen Vehicle Tracking & Recovery product, and is approved for installation throughout the UK automotive and Plant and Agricultural industry.
In the first 6 months of last year Trackstar recovered a total value of £3,082,062 worth of vehicles; with the shortest recovery time of only 8 minutes!
About Trackstar
Already proven and trusted by prestige motor manufacturers, Thatcham approved Trackstar stolen vehicle tracking, which is monitored 24 hours a day in the Trafficmaster Control Centre, was recently a supplier of stolen vehicle tracking services (Olympic Venues) to the London 2012 Games. Stolen vehicles automatically alert the Trafficmaster emergency desk operators who then monitor them remotely and inform the police of their whereabouts for fast and efficient recovery.
Trackstar is headquartered at Trafficmaster Ltd in Cranfield, Bedfordshire. For additional information, visit http://www.trackstar.co.uk , call 0845 604 5433, or contact us via email at: andy.morrison@trafficmaster.co.uk
About Teletrac® and Trafficmaster®
Teletrac, a partner in the Trafficmaster family. Already proven and trusted by more than 20,000 fleets of all sizes and tracking more than 200,000 vehicles in 75 countries, Teletrac saves fleet owners time, money, and reduces their carbon footprint. Teletrac customers report up to 30% lower fuel usage, an average of 15% less driver overtime, 12% higher productivity and less unauthorized vehicle use.
Trafficmaster maintains a unique network of 5,200 traffic monitoring sensors, generating high quality real-time traffic information on the UK motorway and trunk roads. Live traffic information is provided to customers via RDSTMC, premium rate telephone services, the internet and various data feeds.
Trafficmaster provides, Fleet Director, their fleet management solution in the UK, which combines all of Trafficmaster's intelligent technology to help businesses become more efficient and productive, whilst reducing the environmental impact of driving.