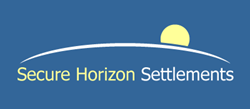 Kensington, MD (PRWEB) October 23, 2013
Today, Secure Horizon Settlements LLC (SHS), announced a contest for anyone who enters into a contract with SHS by December 17, 2013, or calls to verify their payment and contact information by December 16, 2013. SHS is offering an opportunity to win $5,000. In fact, for individuals who decide to enter before the drawing deadline, two extra contest entries will be awarded. In addition, SHS is also providing a second-place prize for contestants, which will be a $1,000 gift card.
"There are no gimmicks and there is no confusion in the fine-print whatsoever," said a company spokesperson. "Individuals don't even have to sell us payments. Call us, go online and there is a great opportunity for two lucky winners to be awarded with $5,000 or $1,000, just in time for the holiday shopping season."
SHS is known in the financial services sector as having friendly, customer-based solutions. Our services serve the unique financial needs of Structured Settlement Recipients and Lottery Winners who are receiving payments over time and would like to gain access to finances immediately. SHS has helped clients across the country achieve their financial goals via a customer-focused process that is streamlined so that individuals can gain access to their future payments immediately.
SHS offers extremely low rates and an individual approach to unique financial needs and personal requirements. SHS understands that individuals may receive periodic payments from a variety of sources and due to varying circumstances, ranging from a personal injury settlement and state lottery earnings to personal injury lawsuits or casino jackpots. Many clients have taken advantage of financial opportunities in their lives by calling SHS, from buying a new home to making a small business investment or just taking a family vacation. The SHS team has a proven track record of helping individuals gain their financial freedom.
SHS has a variety of programs, including a Zero Percent Loan that can put thousands of dollars in a client's bank account the same day. The new SHS FAST CASH PROGRAM is available 24 hours a day, seven days a week at 1-855-SHS-FAST (1-855-747-3278) or http://securehorizonsettlements.com/
About the SHS LLC
Based in Kensington, Maryland, Secure Horizon Settlements (SHS) is a nationally recognized financial services firm that purchases structured settlement payments from individuals and offers one-time payments to lottery winners nationwide. For more information call or visit: 1-855-SHS-FAST (1-855-747-3278) or http://securehorizonsettlements.com/
Eligibility: To be eligible for the Contest, an Entrant must: (a) currently be receiving guaranteed payments as a result of a Structured Settlement (i.e. individuals receiving life-contingent payments are ineligible for entry); (b) must be able to show proof of current and guaranteed Structured Settlement payments; and/or (c) have won a State Lottery prize and currently have a minimum of 4 years of qualified payments (Lottery Winners must be able to show proof of winnings and remaining payments). Minors who enter must have the written consent of a parent or legal guardian in order to be eligible to receive any prizes. Odds of winning will be determined by the total number of entries. Individual entrants need not purchase goods, services, pay money, and/or submit to a sales promotion in order to qualify. Contest begins Wednesday, October 16, 2013. Winner will be determined following a live drawing on December 17, 2013. Drawing will be streamed live at http://www.securehorizonsettlements.com. Delivery will be effectuated by sending Winner a check for the amount of the contest prize subsequent to live drawing. Contest is void in Puerto Rico, U.S. territories and possessions, outside of the U.S., and where prohibited by law. Employees, interns, contractors, and official office-holders of Secure Horizon Settlements, LLC, and its subsidiaries, affiliates, and their respective directors, officers, employees, advertising and promotion agencies, representatives, and agents ("Contest Entities"), and members of the Contest Entities' immediate families (parents, siblings, children, spouses, and life partners of each, regardless of where they live) and members of the households (whether related or not) of such employees, officers and directors are ineligible to participate in this Contest. Secure Horizon Settlements is a Maryland limited liability company with its principal place of business located at: 10605 Concord Street, Suite 304, Kensington, MD 20895.