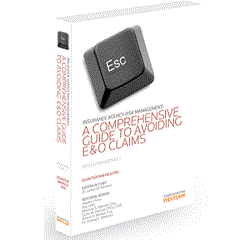 "We are very pleased with the extremely quick approval in the 36 states and expect to have the remaining 5 states shortly..."says Curtis M Pearsall, Executive Director of the AOA Learning Center
Las Vegas, Nevada (PRWEB) October 29, 2013
AgentsofAmerica.ORG® (AOA) and WebCE® are pleased to announce that insurance Continuing Education (CE) credit has been granted in 36 states to date for Book One in the series Insurance Agency Risk Management – A Comprehensive Guide to Avoiding E&O Claims, published by West LegalEdcenter, a business of Thomson Reuters.
"We are very pleased with the extremely quick approval in the 36 states and expect to have the remaining 5 states shortly. The insurance Continuing Education Credits range from 11 to 20 hours with roughly half of the states granting the full 20 credit hours for the successful completion of the material including the online test. WebCE has done an outstanding job in the filing of this material. Their efforts and results clearly show why they are one of the premier CE organizations in the US" says Curtis M. Pearsall, Executive Director of the Agents of America Learning Center."The quick approvals are also a testimonial to the quality of the content, written by authors who are among the top insurance experts that deal with Agents E&O on a regular basis. Providing the benefits of CE with quality E&O prevention subject matter is truly a win-win for agents and brokers in the United States and there is no doubt that this will be of tremendous benefit in enhancing the E&O culture of any insurance operation."
"The content that Insurance agents will receive in the Insurance Agency Risk Management book series is invaluable and we are excited to be part of the program." said Jennifer Haworth Chief Operating Officer of WebCE.
Book One can be purchased for $119 plus state roster and shipping fees for CE filing. Orders include a book and online exam. Order now.
Book Two in the series is focused on the E&O exposures of the sales process and should be available by the end of 2013. Book Three which details the E&O exposures of the various lines of business will be available in the Spring of 2014 In addition to having the content of these additional books filed for CE credit, the AOA Learning Center will be providing the content of the book in a video format that will compliment the books.
AgentsofAmerica.ORG is extremely grateful to its authors and editorial board for their support and expertise. In addition to E&O Insurance expert Curtis Pearsall, the members of the AOA's Editorial Board includes, Editor in Chief, Dr James Kallman of St. Edwards' University, Minneapolis E&O defense attorney Britton Weimer of Jones Satre & Weimer PLLC, Professor Andrew Whitman of the University of Minnesota's Carlson School of Management, Roy Little, President and CEO at Insurance Educational Association, Angelo J. Gioia Founder & Publisher of AgentsofAmerica.ORG and Matthew Marrone defense attorney with Goldberg Segalla LLP in Philadelphia,
Companies or Agencies interested in purchasing multiple copies of Book One or who have questions about our programs should contact Angelo Gioia at angelo@agentsofamerica.org or Curt Pearsall at cpearsall(at)agentsofamerica(dot)org.
About AgentsofAmerica.ORG
AgentsofAmerica.ORG is an Insurance Association dedicated to the personal and professional growth of its Insurance Agents & Brokers members and their agencies and a indispensable resource for news, products, services, continuing education, and industry information throughout America The organization's mission is to deliver the BEST people, products, information, and services to agents all designed to help them manage and grow their business and provide ongoing value to their clients. In addition, it has become the number one resource for connecting insurance agents with industry professionals, support and guidance on Professional Liability Risk Management, Errors & Omissions Risk Management, Loss Prevention & Loss Control, Insurance Agency revenue building products and opportunities. Our motto is "Bringing the BEST Together." Visit http://www.agentsofamerica.org for more information.
About WebCE, Inc.
WebCE is the leading insurance continuing education provider in North America. Each year we deliver over 850,000 insurance CE courses to insurance and financial planning professionals. WebCE's mission is to provide high-quality insurance continuing education experience at an affordable price. Our integrated suite of insurance CE courses and testing services are available either online or through traditional books.