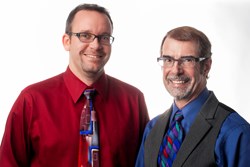 "Don't give up if you have a dream. Do what brings you joy. Encourage yourself. Make your dream work. Re-dream your dream--even if no one else likes it!" - Scherrie Payne in "One Door Closes"
Worcester, MA (PRWEB) October 29, 2013
When they set out to write their new book, "One Door Closes: Overcoming Adversity By Following Your Dreams," entrepreneurs Tom Ingrassia and Jared Chrudimsky determined that they wanted to use the book to make a difference in people's lives.
"We share a passion and vision for guiding our readers to achieve healthier, more balanced, and harmonious lives," say Ingrassia and Chrudimsky. "We both are fortunate to have lived into our own dreams. In and of itself, we know that 'One Door Closes' has the power to inspire others to live into their dreams. Even more, however, we actually want to use profits from the book to make a real impact on people's lives. That is how we intend to make the world a better place--one person at a time!"
Based, in part, on their own life experiences, and those of their coaching clients, "One Door Closes: Overcoming Adversity By Following Your Dreams" captures the inspirational, highly emotional stories of sixteen people from all walks of life who have triumphed over seemingly insurmountable odds to achieve their dreams. Through first-person accounts, these courageous survivors describe their personal approaches to living their lives with vision, courage, determination and passion. They share the wisdom they learned along the way--often the hard way--wisdom readers can use on their own journeys. Many are sharing their stories publicly for the first time.
What sets "One Door Closes" apart from other inspirational books is that it also includes ten holistic self-assessment tools readers can use to design their own blueprint for success, based on what they learn from the stories.
Thirteen of the people profiled are "ordinary people who have achieved the extraordinary," despite the odds. "One Door Closes" also features profiles of Scherrie Payne of The Supremes, June Monteiro of The Toys, and Mary Wilson of The Supremes, who shares a special message of healing and hope that forms the Epilogue of the book. Each of these legendary singers frankly shares the obstacles they have faced during their storied careers.
Several of those profiled in the book are associated with non-profit organizations, and as a way to thank them for their participation, Ingrassia and Chrudimsky decided to earmark a portion of their sales to benefit those organizations.
First up was Angiosarcoma Awareness, Inc. Angiosarcoma is one of the rarest forms of cancer, with fewer than 300 diagnoses per year. Corrie Painter--a biomedical researcher at the University of Massachusetts Medical School, and one of those profiled in the book--was diagnosed with angiosarcoma three years ago. Painter is a co-founder of Angiosarcoma Awareness, Inc., which raises hundreds of thousands of dollars for research (some in partnership with Memorial Sloan-Kettering Cancer Center), as well as providing information, referrals and support for those diagnosed with angiosarcoma and their families. Ingrassia and Chrudimsky are donating 15% of their October sales to Angiosarcoma Awareness, Inc.
In the coming months, the authors will donate a portion of book sales to Wesley United Methodist Church, in Worcester, MA, whose pastor, The Reverend Shandirai Mowakomatanda shares his powerful story of personal redemption in the book. Also benefiting will be Abby's House, established in 1976 as the first shelter for homeless and battered women and children in Central Massachusetts. Annette Rafferty, the former Roman Catholic nun who was the catalyst and driving force behind Abby's House, also is profiled in "One Door Closes." The authors also have designated a private fund established to aid an ailing musician as a beneficiary.
"It is important for us to give back some of what we have received in life. The opportunity to work on this book with our sixteen amazing guides was a life changing experience for us," says Ingrassia. "Each one of us has the power and the ability to make a difference in someone's life," adds Chrudimsky. "So often we think, I'm just one person, what can I do? Even if each one of us touches just one person's life, imagine the change we would see in the world. That is our mission," they say.
"One Door Closes: Overcoming Adversity By Following Your Dreams is available from Amazon. To learn more, visit The MotivAct Group's website.